The Timeless Beauty of the Lakshmi Coin Jewellery: A Traditional Must-Have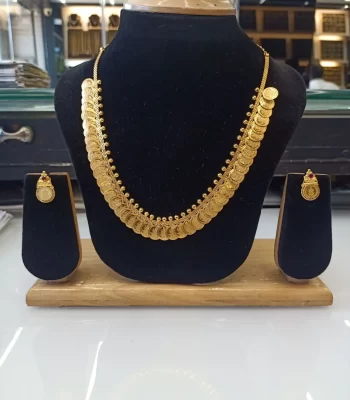 As a jewellery enthusiast, I have always been fascinated by the unique and traditional pieces that are deeply rooted in our culture. The Lakshmi Jewellery is one such jewellery that has been a part of Hindu culture for centuries. In this blog, I will be exploring the various aspects of the Lakshmi Coin Jewellery, including its history, design, styling tips, and more. 
History
The Lakshmi Coin Jewellery is inspired by the traditional Hindu Kasu design, which dates back to ancient India. In the past, Kasu was used as currency, and they were often strung together to make jewelry. This type of jewellry was considered a symbol of wealth and prosperity. Today, the Lakshmi Coin jewellery is popularly seen in South India and is often worn during traditional Hindu functions, marriages, and cultural events.
Add A Dose Of Luck To Your Everyday Look With Lakshmi Coin Studs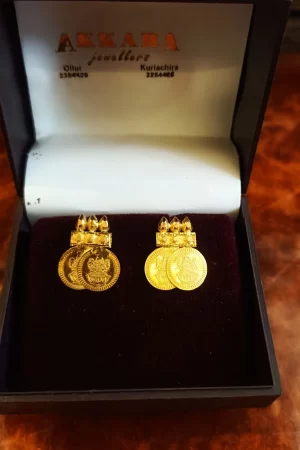 If you're looking for a timeless and easy-to-wear accessory, these Lakshmi coin studs are the perfect fit. As someone who loves to wear traditional jewelry, I was immediately drawn to the coin-shaped design and the bright yellow gold color. They're perfect for daily wear and can complement any outfit, whether you're going for a casual or a more formal look.

Here's what you need to know about these Lakshmi coin studs:

Design: The studs are mounted with a pair of Lakshmi coins, which are considered to bring good fortune and prosperity. You can choose from a variety of options, including one, two, or three coins on a stud.

Comfort: The studs are lightweight and comfortable to wear all day long.

Pairing: These Lakshmi coin studs can be paired with a Lakshmi necklace or other traditional necklace designs.

Occasions: These studs are perfect for daily wear and can be worn on any occasion.

Impact: Wearing these Lakshmi coin studs can make you feel confident and lucky, as they symbolize wealth, prosperity, and success.

Trend: These studs are evergreen, and they will never go out of style.
Lakshmi Coin Bangle - A Classic Piece for Hindu Functions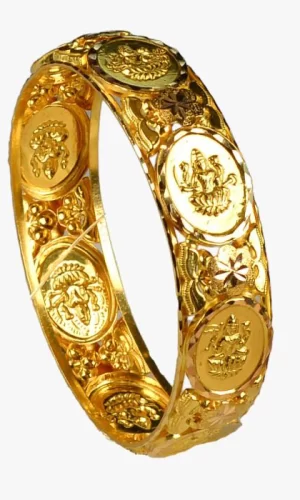 A Closer Look at the Design and Material: The coins are arranged in a circular pattern, giving the bangle a coin-shaped design. The bangle is available in all diameters and weighs around 16 grams. It is made with 22CT/916 gold, which ensures its purity and durability.
Styling the Lakshmi Coin Bangle with Kerala Ethnic Wear: The Lakshmi Coin Bangle is a versatile piece that can be worn with a variety of outfits. It is best paired with traditional Kerala ethnic wear, such as Kasavu sarees or Mundu. The bangle can be worn on one hand, or you can stack multiple bangles on both hands to create a bold statement look. Pair it with a Lakshmi coin necklace and studs to complete the set.
Care and Maintenance:  The Lakshmi Coin Bangle requires normal care and maintenance. It is recommended to store the bangle in a separate jewelry box to prevent scratching. Avoid wearing the bangle while performing any strenuous activities or coming in contact with any harsh chemicals. You can usually clean gold ornaments with a soft cloth and warm water to maintain its shine. 
Prosperity Personified - Embracing The Lakshmi Coin Necklace's Timeless Elegance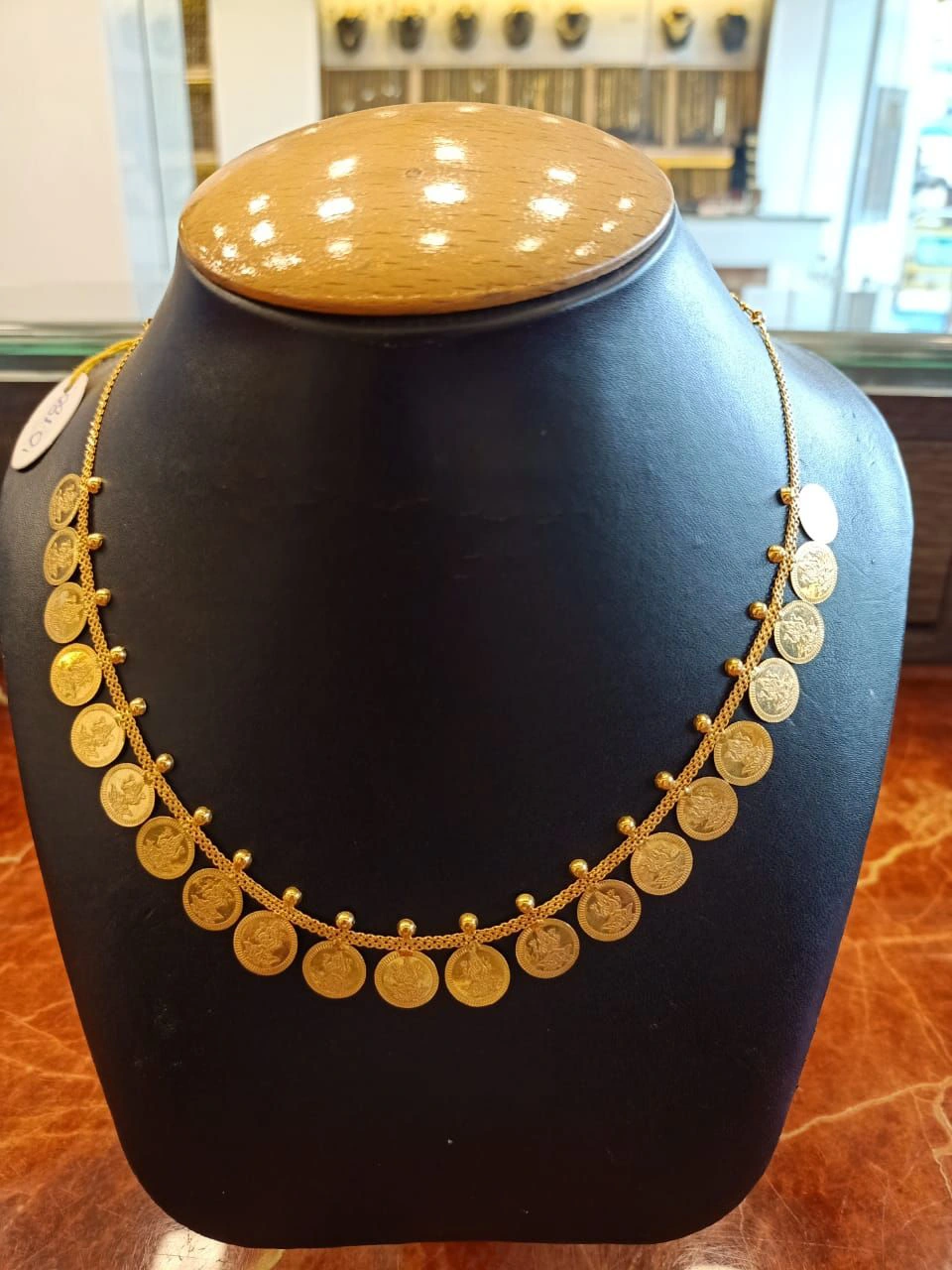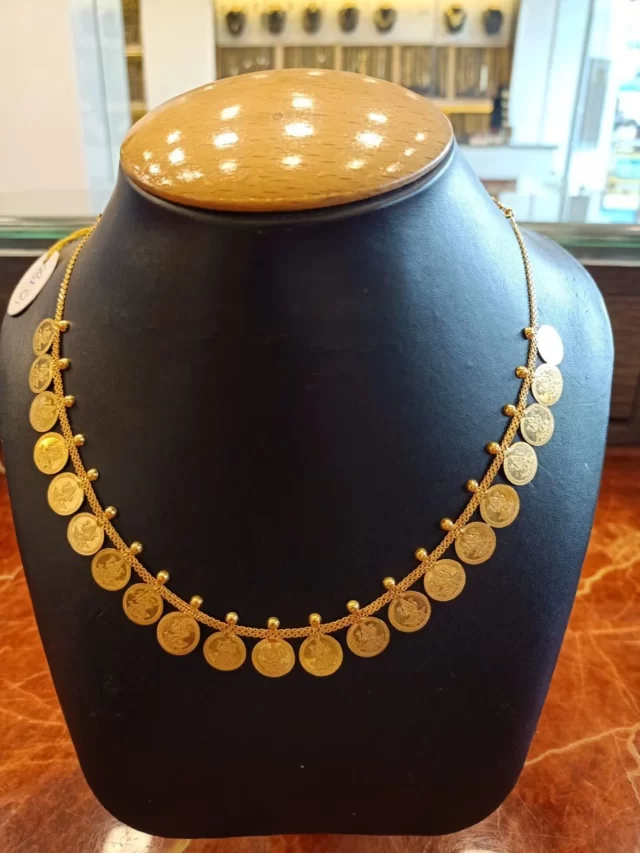 Discovering Lakshmi Coin Necklace: I recently came across a stunning Lakshmi Coin Necklace or Kasu Mala(in Kerala). This piece of jewelry caught my eye because of its unique design pattern and exquisite craftsmanship.
The Unique Features of the Necklace: The Lakshmi Coin Necklace is a coin-shaped necklace that is popularly seen in South India. It is made of 22CT/916 purity yellow gold, weighs 10 grams, and is 16 inches in length. In Hindu mythology, Goddess Lakshmi is worshipped as the goddess of wealth and prosperity, and wearing this necklace is said to bring good fortune.
The Necklace for Every Occasion: The Lakshmi Coin Necklace is perfect for weddings, cultural events, and even casual wear. It is light in weight and comfortable to wear for occasional use. The necklace can be paired with Lakshmi coin studs and bangles to complete the look. The matching attire for this necklace is a Kerala saree, making it a popular choice for brides in South India.
Tips for Keeping the Necklace in Top Condition: Taking care of the Lakshmi Coin Necklace is relatively easy, as it requires normal maintenance. The necklace can be cleaned using the same method as previously described. It is important to store the necklace in a safe place to prevent it from getting scratched or damaged.
Personalizing Your Lakshmi Coin Necklace: One of the unique features of the Lakshmi Coin Necklace is that it is customizable. You can choose to add or remove coins to adjust the length or weight of the necklace, making it a versatile piece of jewelry. This is perfect for those who prefer a more personalized touch to their jewelry.
A Symbolic Heirloom For Future Generations: The Lakshmi Coin Necklace is a must-have for anyone who appreciates traditional jewelry. Its timeless design and cultural significance make it a valuable addition to any jewelry collection. It is a piece of jewelry that I will cherish for years to come and pass down to future generations.