How To Clean Gold Jewellery At Home
Gold jewellery always makes a woman stand out in a crowd. The lustrous metal combined with shining stones brings out the glittering beauty of any bride. If you take a look at your jewellery ornament, you might notice that it gets dull over a course of time. This happens due to the following:

Due to sweat from the body which sticks on the jewellery usually seen on daily wear ornaments

Dust and dirt from the surrounding environment which sticks to it

 Gets scratched with other jewelleries you use.

Soap particles, if you wear the jewellery while taking a shower.

We are sure that you will find any of these on your jewellery, but don't worry we can get it cleaned easily. Follow these quick and easy tips to bring the shining beauty back on your ornaments.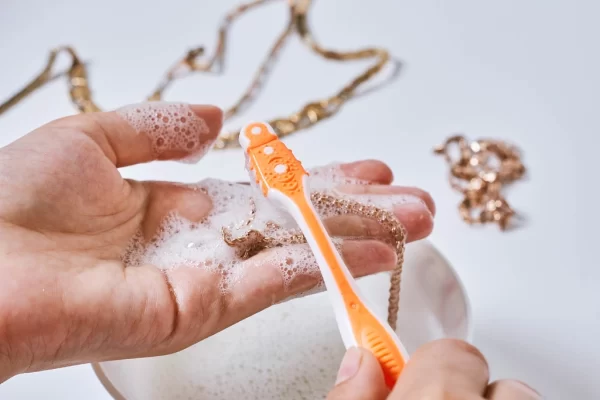 Am I the right person to do it?  Should I take any professional help. Cleaning jewellery can be done easily at home without any professional help or use of any acids or industrial chemicals. Luke warm water water and few daily use materials will be handy in order to complete the process. The most important of all is a caring hand to do the same.
The easiest way to clean: This is a method you can thrive upon to clean the jewellery in very short intervals. Daily wear often tends to lose its charm quickly and this method can be used to restore it in less than a minute. Prepare some lukewarm water. Place the jewellery on a bowl or a tray. Now pour the water gently on the ornament. Make sure it reaches all the parts of the ornament. Rinse the ornament twice with the water and gently dry it with a lint free cloth. Once properly dried, the ornament is ready to use again.
Cleaning Solid gold Ornaments:  This method is recommended only on solid gold ornaments. Get a toothbrush of medium or hard bristles. Pour a few drops of hair shampoo or dishwasher liquid (we recommend pril liquid) on the toothbrush. Now dip the ornaments in the water and then use the toothbrush to brush and clean the ornament. You can go hard as possible on solid jewellery ornaments. Do not worry, the bristles won't create scratches on the ornament.
Cleaning Gold ornaments without Stones\ Pearls\ Stones:  Boil water in a bowl. Once boiled, remove it from the stove or induction and place it on a table. Now put your jewellery in the bow and wait for a few minutes. Take out the jewellery carefully and wipe it with a lint free cloth. The boiling water helps to remove the acids and other chemicals from the ornament. Highly recommended to be done for the studs of new born babies.

Recommendations & Take away
It is always recommended to clean your jewellery before using it after a long time. This can help from not getting allergies or rashes from the dust on jewellery. Cleaning also brings out the true beauty of the ornament. Jewellery of kids should always be cleaned and stored to maintain hygiene and to get rid of skin allergies. Take out your time and let your jewellery shine bright for you.