Kerala Saree With Matching Jewellery
Better known as the Kasavu saree, it symbolizes Kerala's tradition and culture. The white and gold saree comes in cotton and silk. Kerala saree with matching jewellery paints a unique traditional picture unrivaled by any other attire. Combining jewellery with Kerala sarees makes one look radiant, elegant and graceful.
The Pathakam Jewellery Set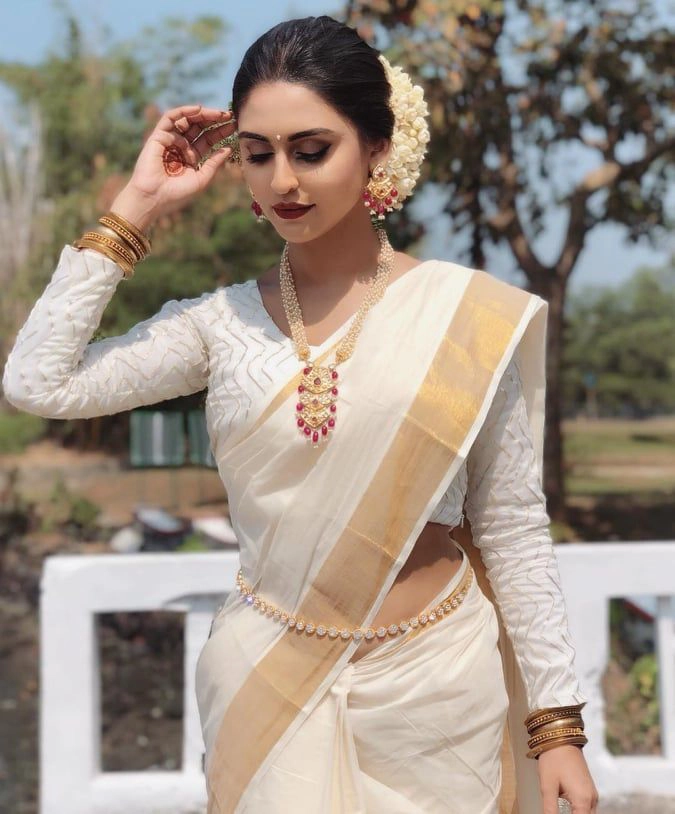 This gorgeous jewellery set for Kerala saree is typically one of the foremost bridal jewellery worn by the women of Kerala. Pathakam aligned with a full-sleeve white blouse brings out a calm and peaceful perception to the naked eye.
The Mullamottu Mala/Pichimottu Mala Set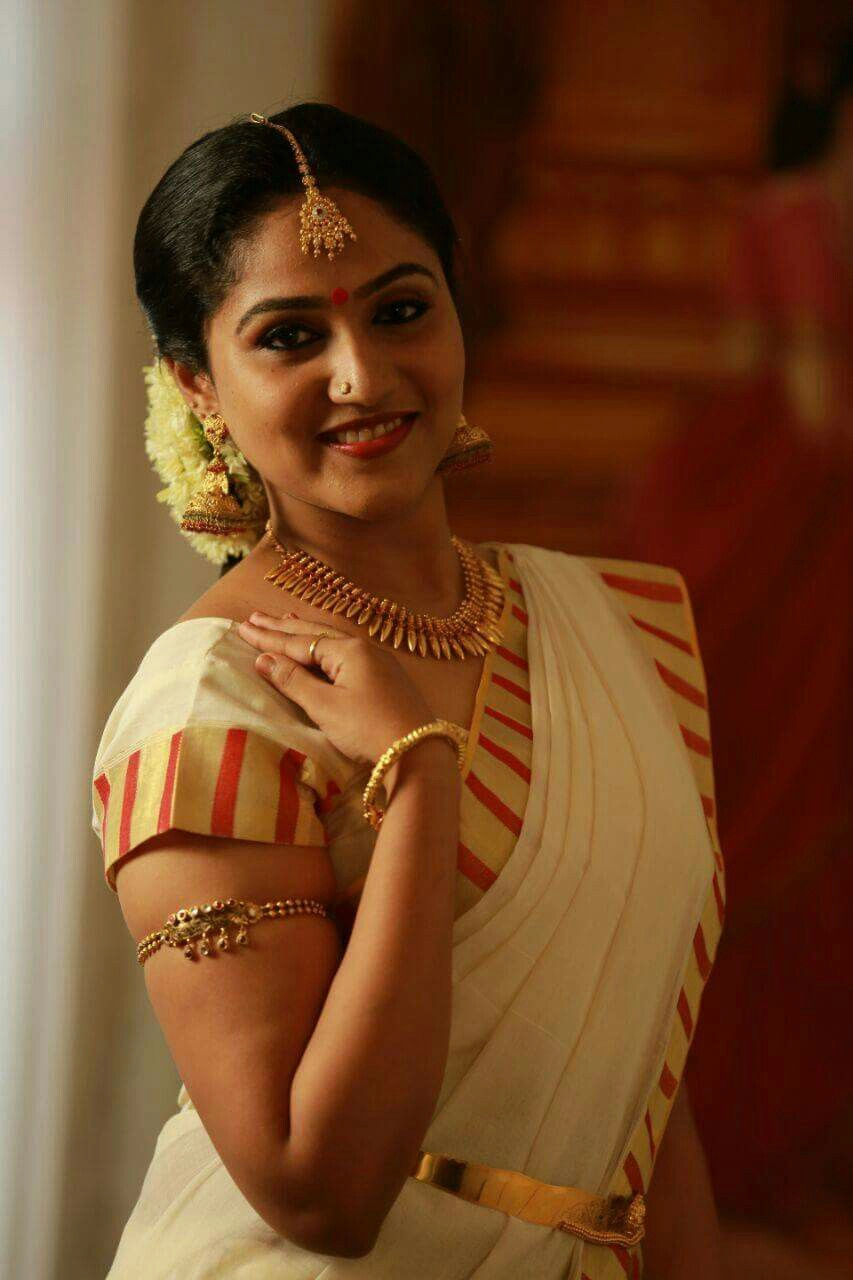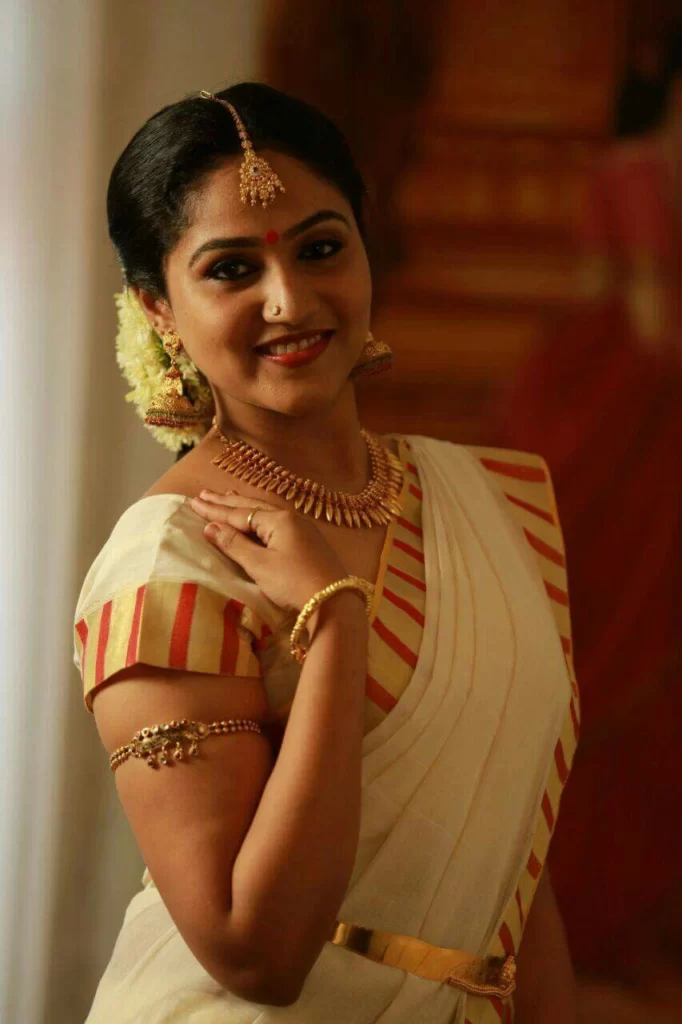 Both exquisite ornaments for Kerala saree are inspired by jasmine blooms. The difference being the Mullamottu mala has a more rounded design, whilst the Pichimottu mala has a slim and elongated form of the bud.
Lakshmi Mala/ Kashi Mala Set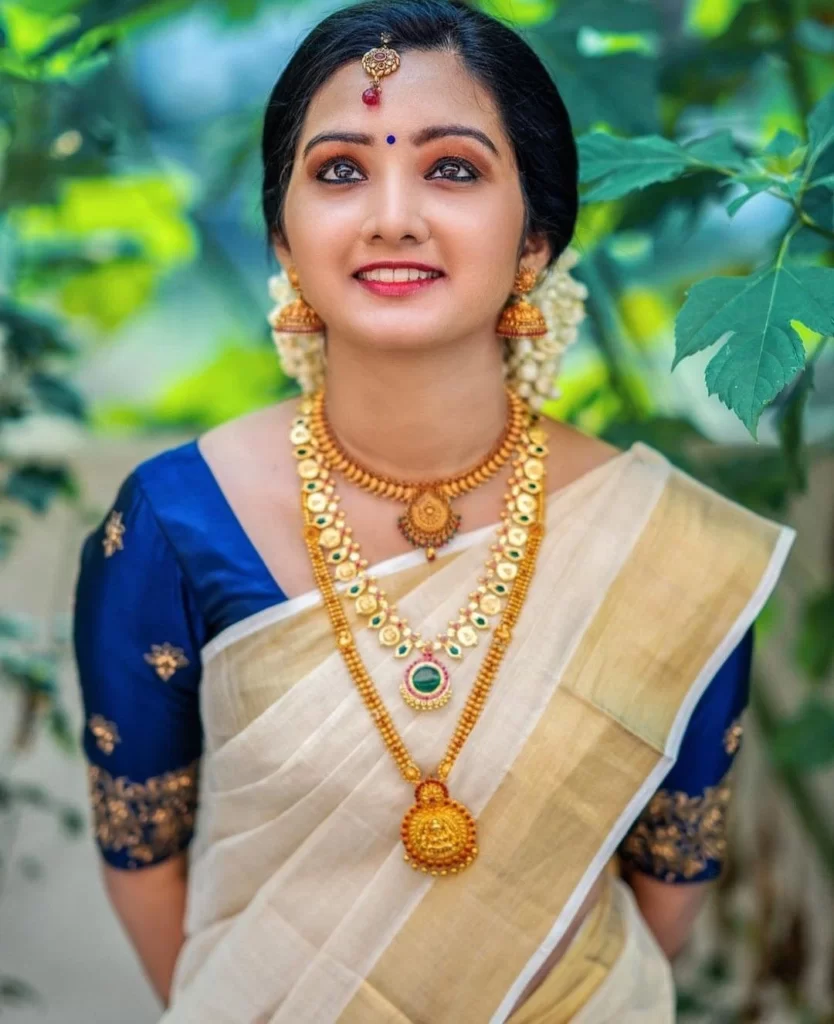 An optimal necklace for the Kerala saree represents both material and spiritual success. This necklace is one of the south Indian favourites as it is common during their prestigious occasions. You can observe the gold coins that are tightly linked together in the ornament where each coin has a miniature representation of the Goddess Lakshmi carved on it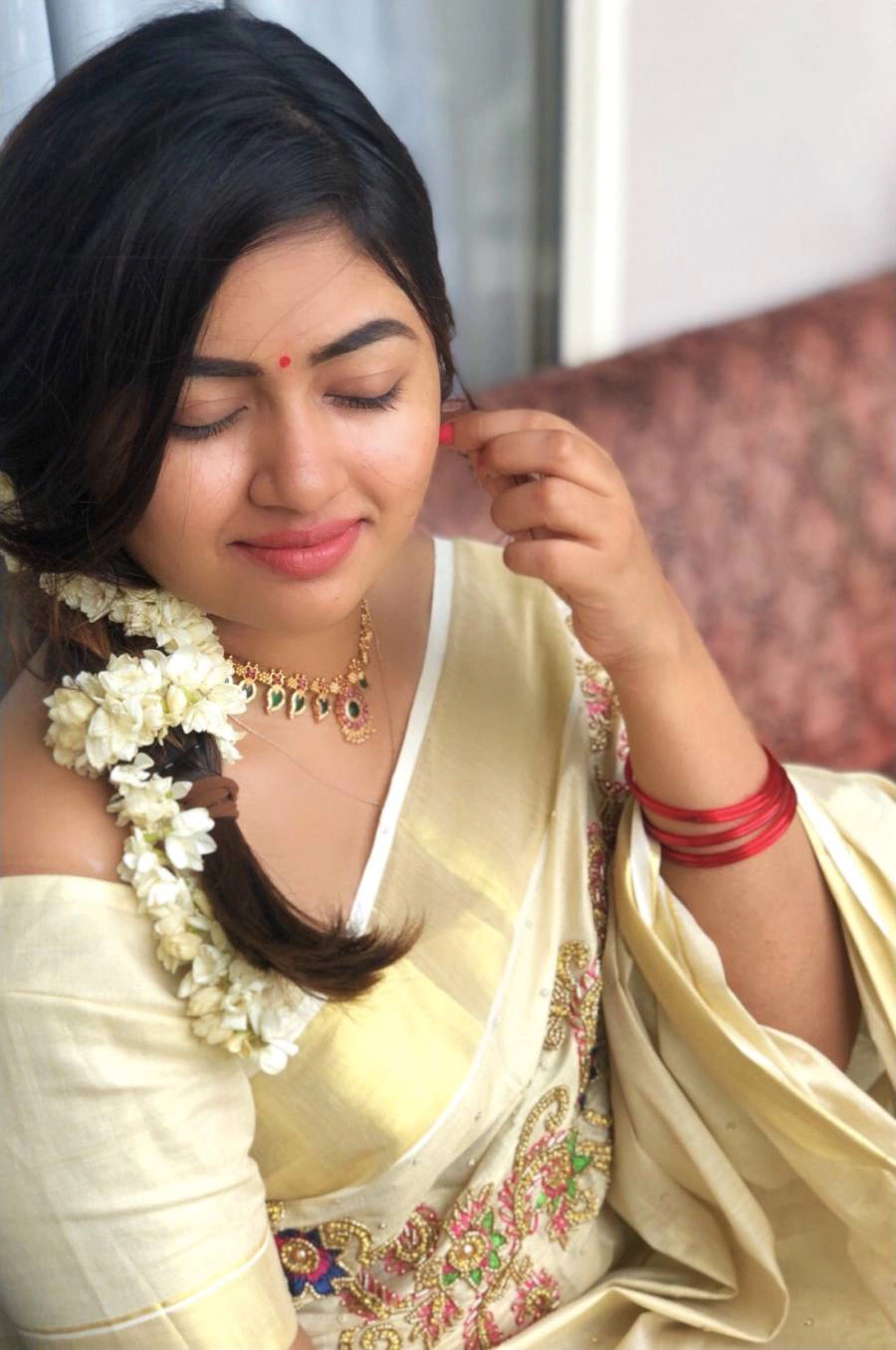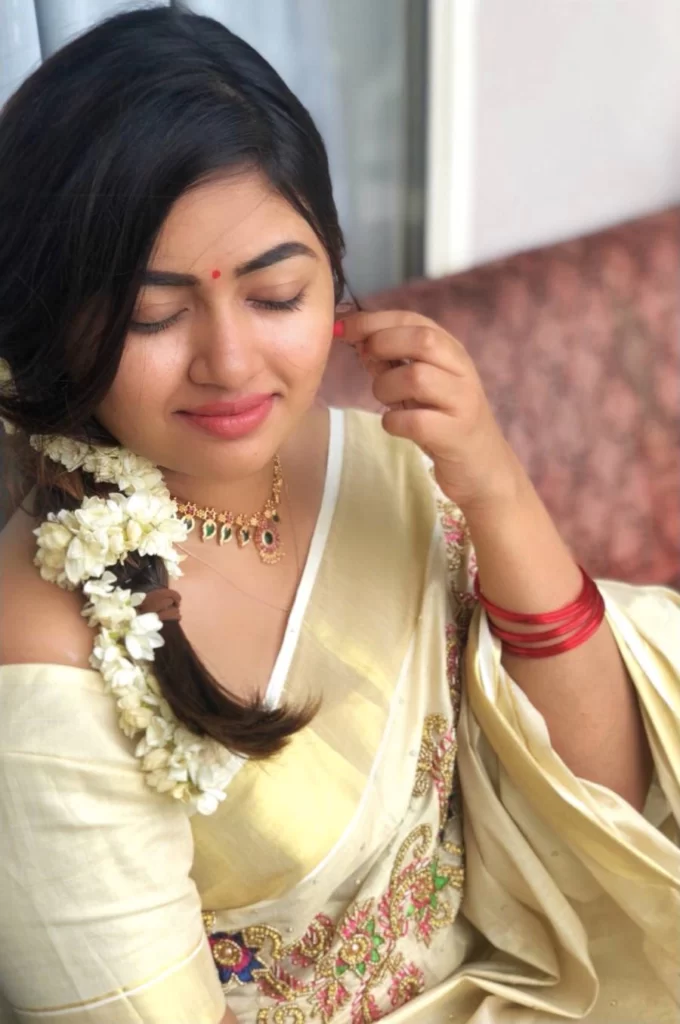 This necklace set is the symbol of traditional Kerala that has always been extremely popular in the antique gold department. The design gets its name from the tree called 'Pala', the distinctive feature of these jewels for Kerala saree are its lockets that are shaped like leaves (Pala leaves).
Check Out What's Trending
Matching jewellery for Kerala saree
Now you might not be one of those who has an entire set of jewellery at their disposal. So we made a list considering Kerala set saree with simple ornaments individually, that might cater to your needs better than an entire set.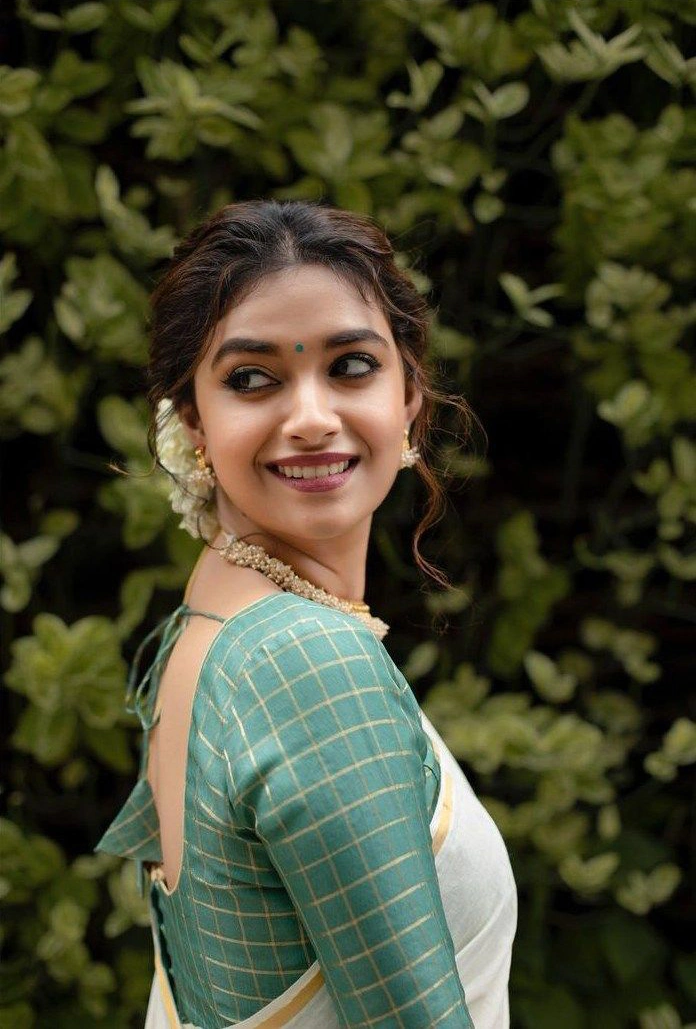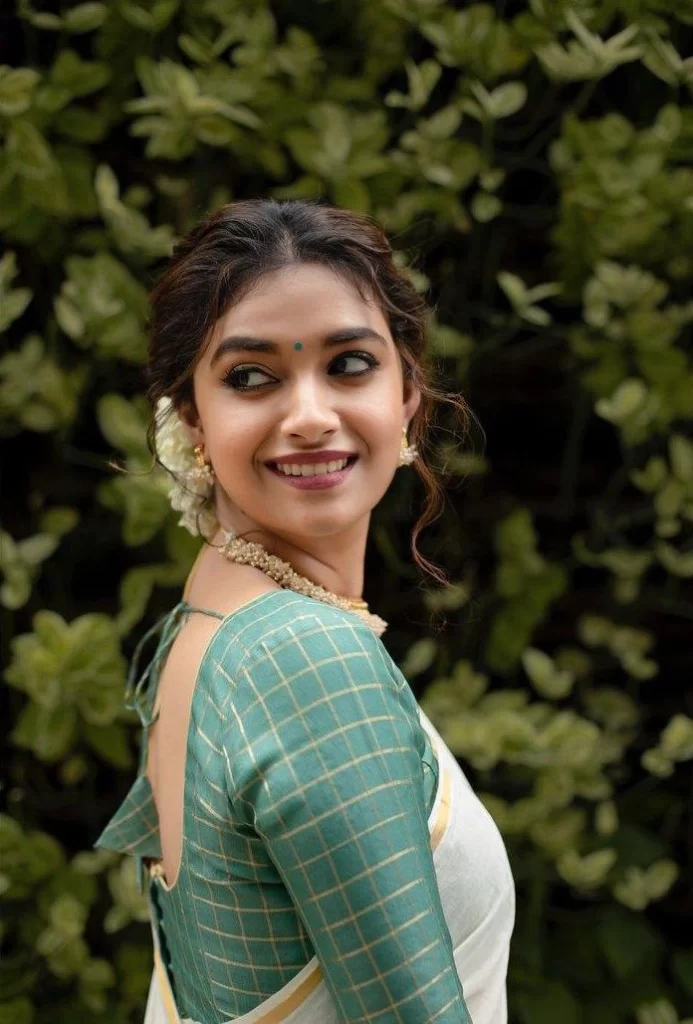 Drop earrings are the ones that "drop" just below the earlobe. At a glance, drop earrings are made up of simple pieces with attachments like gemstones, beads and charms dropping from the base of the earring. But the ornament piece is stationary and does not move, making it one of the first choice earrings for Kerala saree.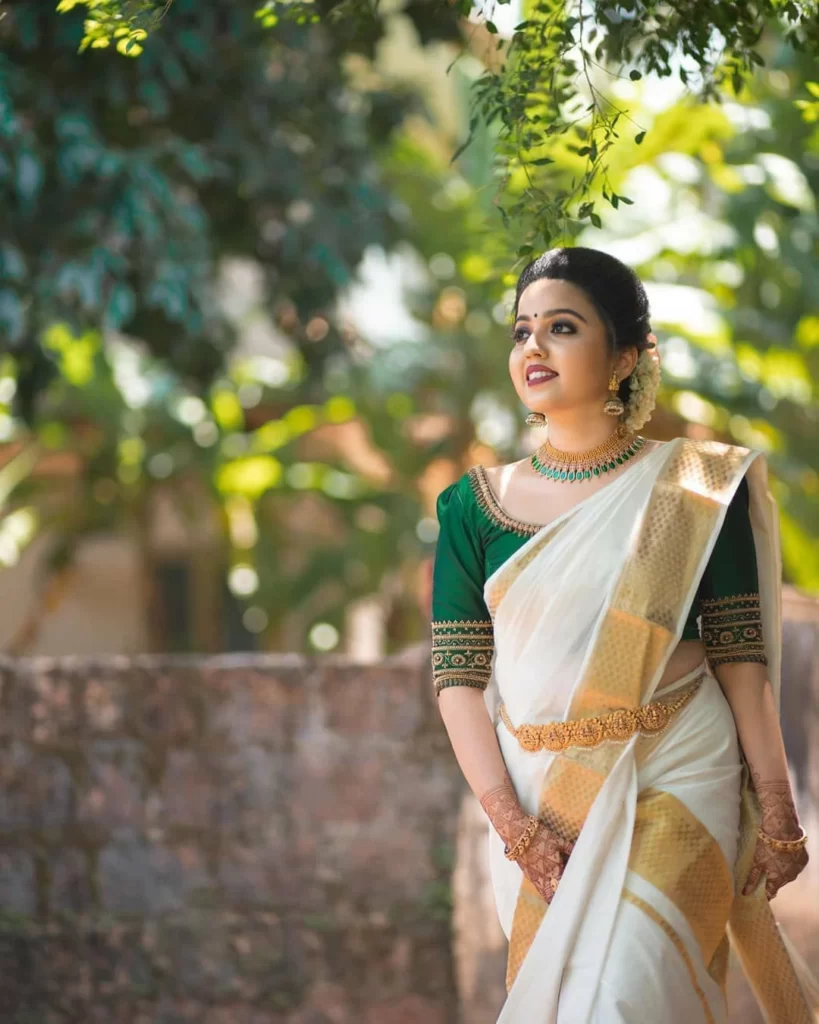 The word 'Jhumka' instantly evokes a picture of movement and fluidity. Called 'Jimikki Kammal' in the southern part of India, the traditional bell-shaped earring reflects the distinctive jingle that its suspended beads and adornments make on every turn. Its emasculate beauty and distinctive features make it a crowd favorite for every Indian Wedding.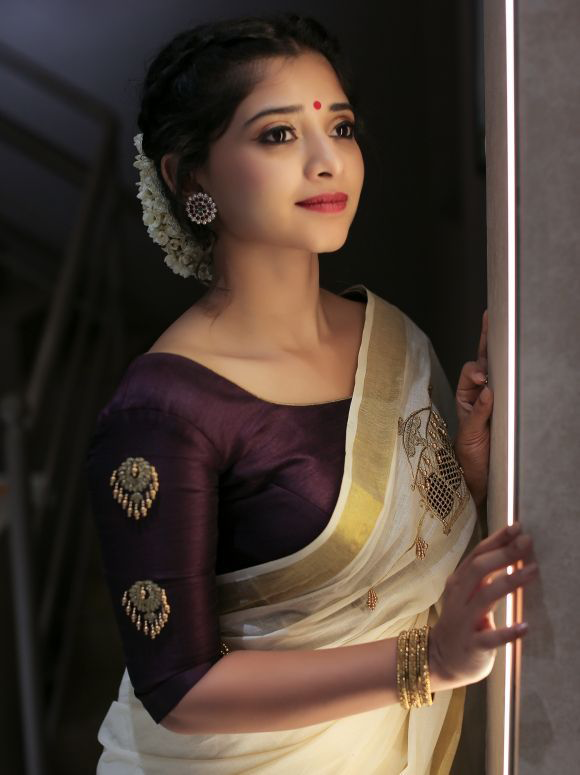 A stud is a minimalist earring made of a small point attached to a post that passes through the earlobe to a backing. A single stud may be bare metal or adorned with a small gemstone or a singular design to draw attention to the piece.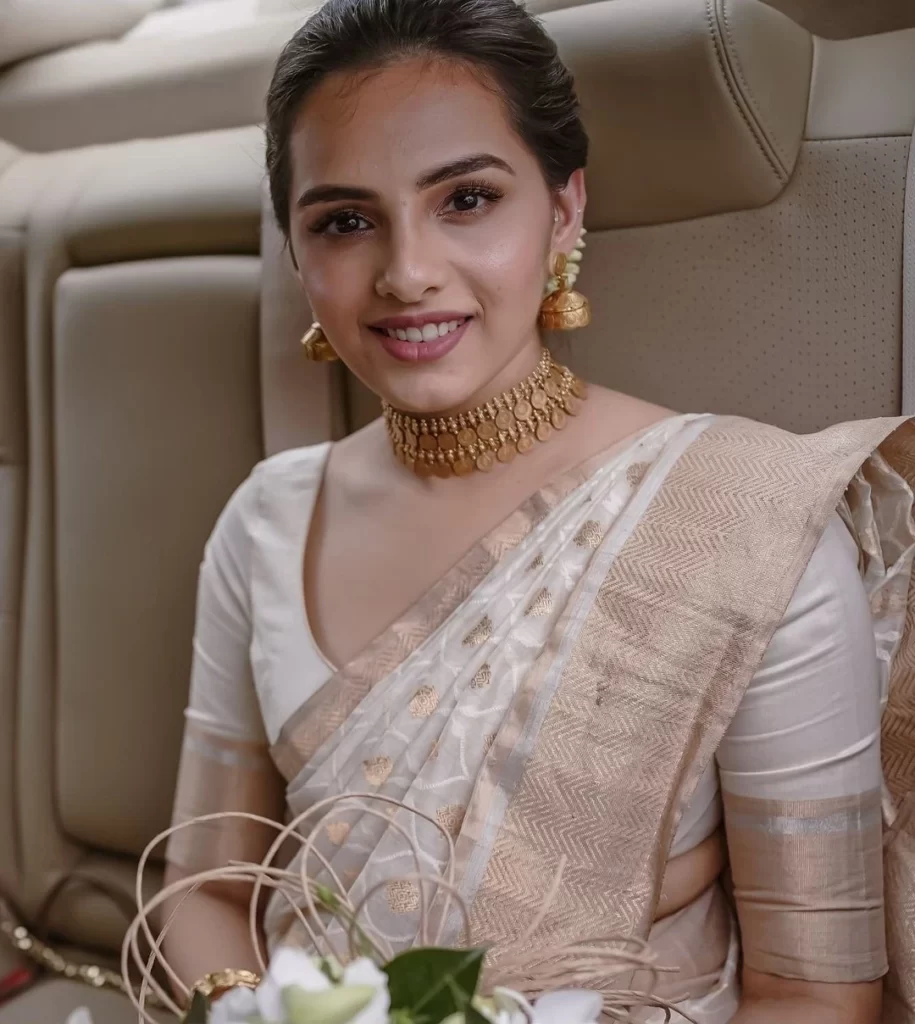 The history of the choker necklace dates back thousands of years, to the world's earliest civilizations, the Sumer empire in Mesopotamia and Ancient Egypt. Today women wear chokers with a Kerala saree to give a certain style of ambiguity and elegance to their neck pieces.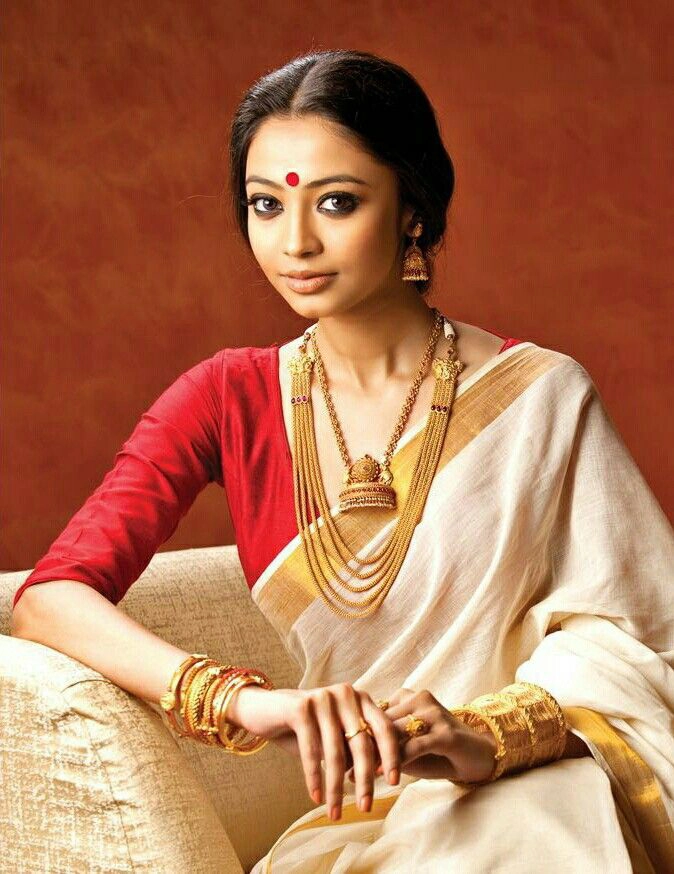 The Saree mala is the non-living embodiment of the perfect combination of necklace and earrings. From the above picture, it is obvious that the compatibility of temple jewellery's saree mala with the set mundu is phenomenal.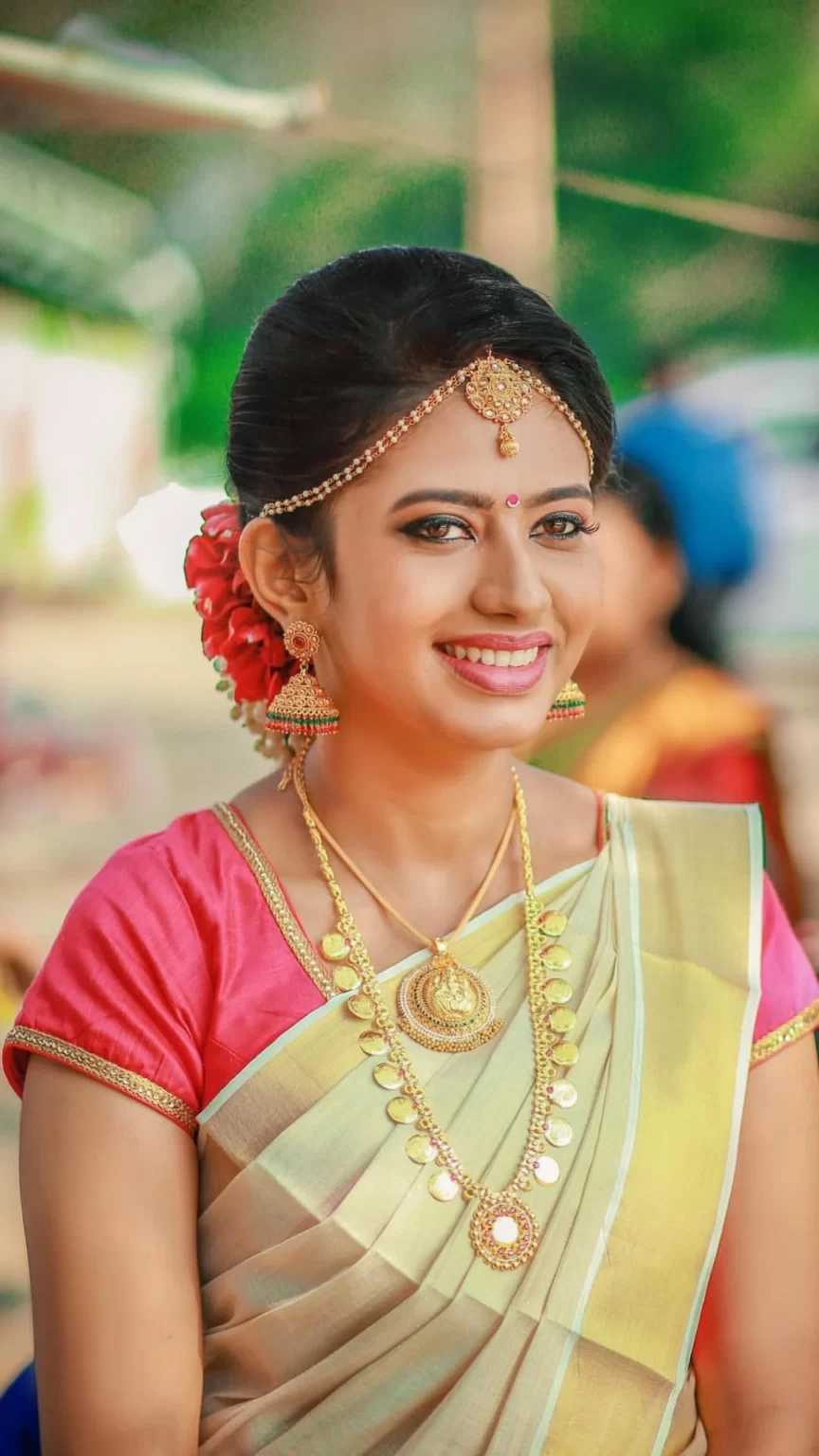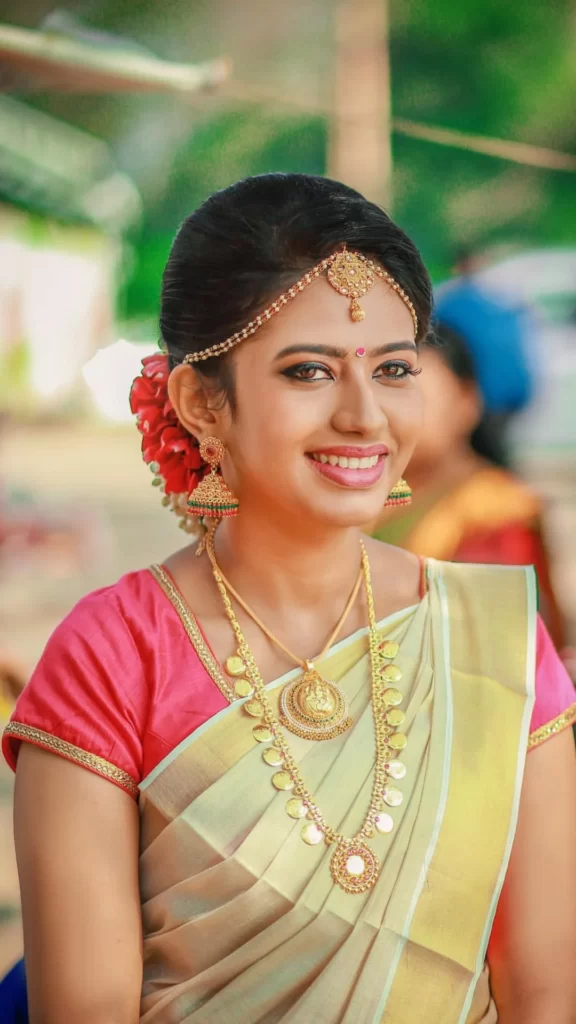 Compared to the other two, the traditional necklace has an average length and is neither too close to the neckline nor too long. Of all the collections and designs available, the traditional necklaces will be within a class of themselves.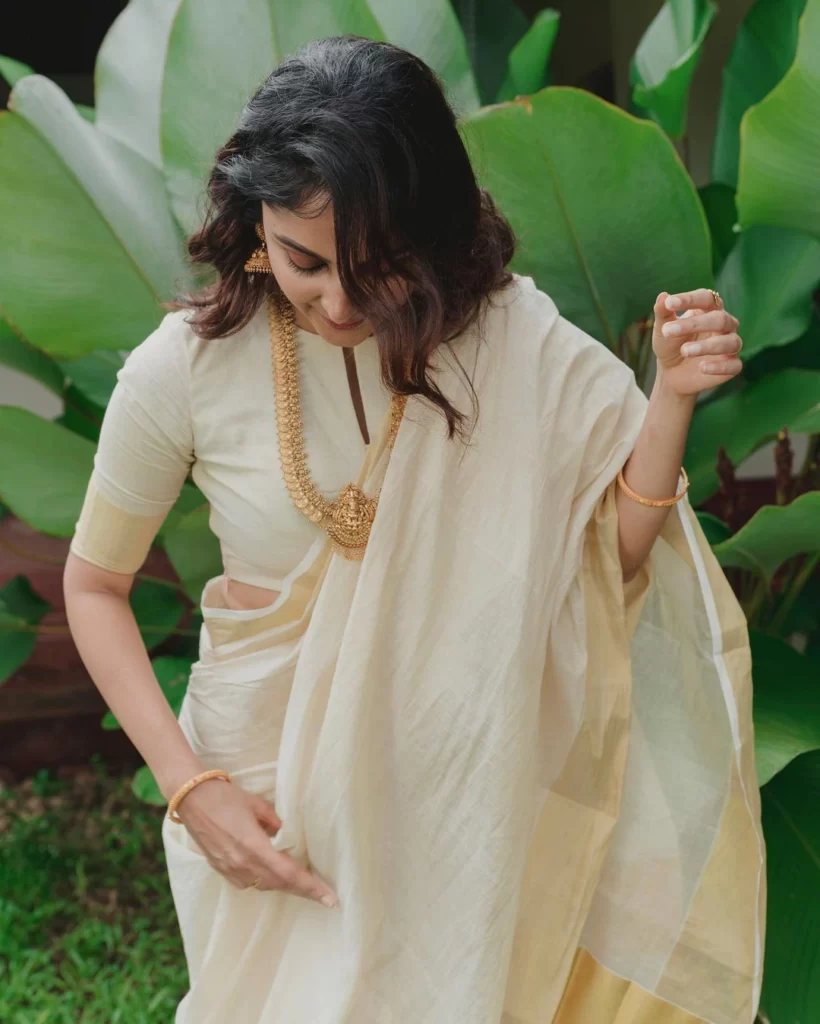 There is beauty in keeping it simple. When we talk about bangles for Kerala saree, our primary focus turns to gold bangles. In that category, Ottavalla is recognized as the underrated one among the bunch. You can either keep it simple and wear it alone or attain the same impact of a 'Thadavala' by wearing them in bulk.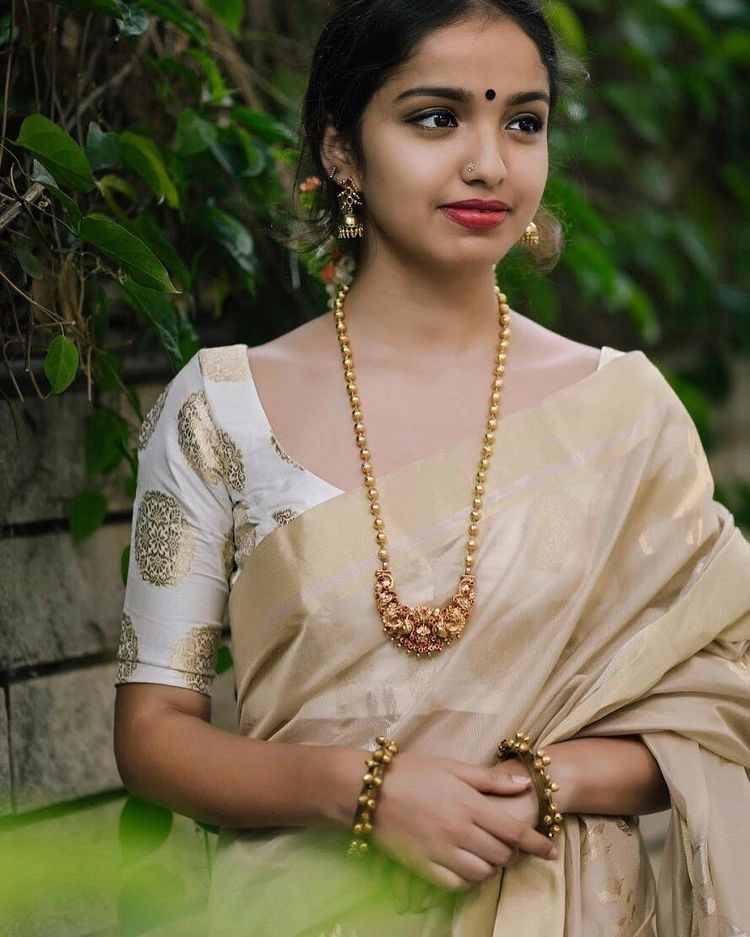 Temple Jewellery is one of the most popular collections in India. One of their enticing sets gave us this masterpiece of art called 'Thadavala'. Even though this Indian bangle has a peculiar sense of direction, it is well-accepted in the jewellery community.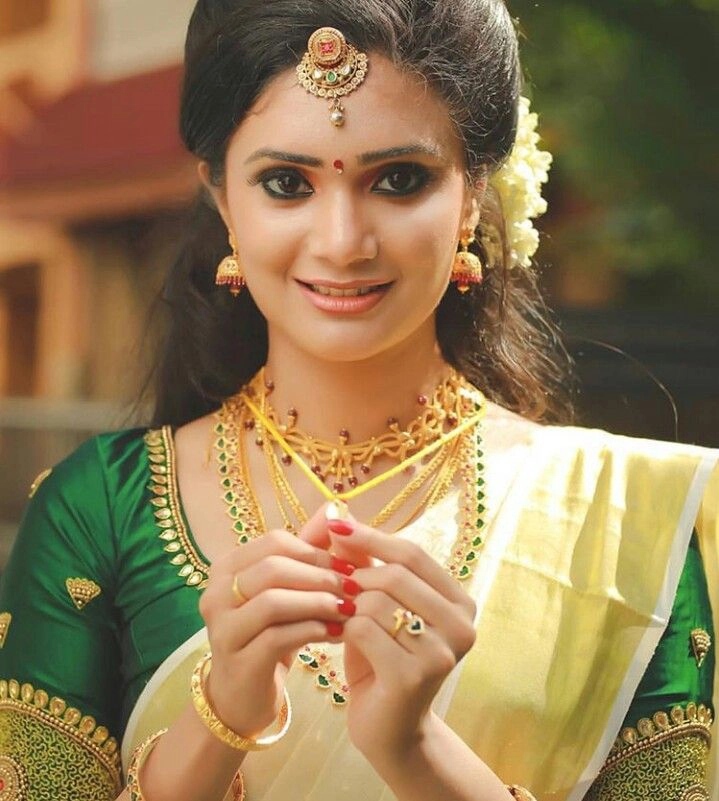 Popular in Kerala's Malabar region these designs are largely influenced by nature. The cultural significance these traditional bangles possess, combined with their necklace counterpart makes these bangles optimal with the Kerala saree.
There are popular combinations of jewellery with Kerala saree but, ultimately what looks good on you is purely subjective to you. If there is a certain combo you would like to try with your Kerala saree, don't hesitate to do so. If you need a curated combo pick, check out Chungath Jewellers and their traditional jewellery set for Kerala saree. Finding Saree matching Jewellery is a intricate process that involves trial and error.