Latest Bridal 22k Gold Bangle designs
Being a bride is one of the best moments in the lives of women, and the bridal attire makes the bride glow in the gathering. Gold ornaments have always played their part in beautifying the bride and being closely related to the jewellery industry I am always delighted to help many brides in selecting the ornaments for their big day. Here is a curated list of the latest wedding gold bangle designs of my choice for every bride out there.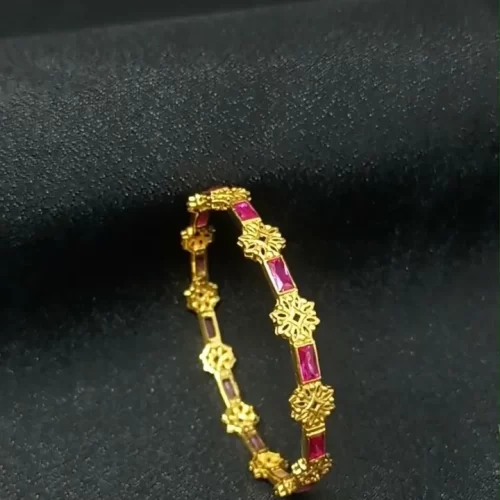 This is a simple yet elegant bangle design, padded with floral designs and pink stones in between which could really go matching with floral embroideries on the bridal 
gown. The pink colour goes well with the yellow gold and is well suited for all skin types. The bangle can be used for the wedding reception as well as for parties post the wedding. The bangle is made of 22ct gold and weighs approximately 24 grams (3 sovereigns of gold) and is available across all sizes (Diameter: 2 inch to 2.5 inch) for women. Definitely, the bangle is going to be a great choice for any bride.
Two-and-a-half sovereign gold bangle by Vellanikaran Gold & Diamonds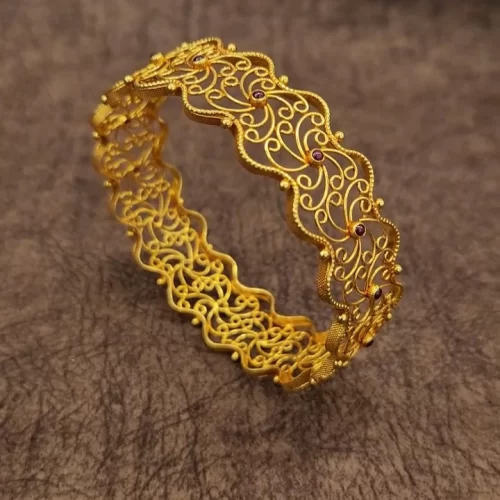 Thadavalas are mostly preferred by brides which give a bit heavy look and this design is the perfect bridal wear for sarees. Simple Christian brides prefer to wear a simple yet elegant bangle with their wedding saree (Manthrakodi) and this bangle with minute red stone cladding and a matt finish is a good choice. Built with solid gold wires, this bangle is very durable and easy to wear. Weighing around 20 gms and available across all sizes (Diameter: 2 inches to 2.5 inches), I have seen many brides choosing this particular design and similar patterns during their purchase. This design also matches any saree and can be a go-to Thadavala for women to attend all other party occasions.
Two sovereign Gold Bangle in Heart Rhodium Design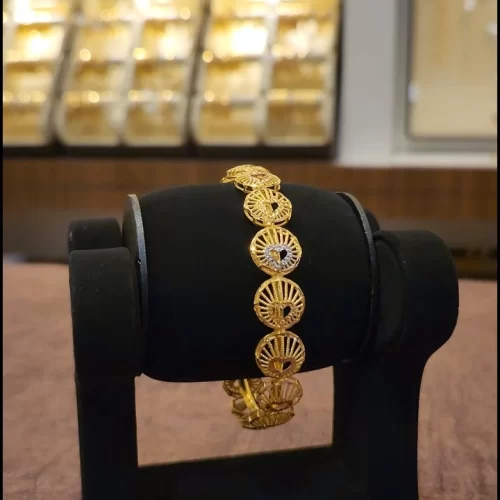 This stunning two-sovereign gold bangle is a must-have for your wedding, especially because of the bangle's Turkish heritage. The heart rhodium design is both elegant and timeless, and the circular gold design makes it a perfect addition for Muslim brides. The bangle is made of 22k 17 gm gold and roughly comes at a diameter of 2 inches to 2.5 inches. In my experience from the Jewellery shops, I have noticed a lot of wedding Jewellery shopping families specifically asking for this particular Turkish design. This bangle aligned with its whole set compliments the bride's special day.
Pretty sixteen gm designer gold bangle with stones by Millenium Gold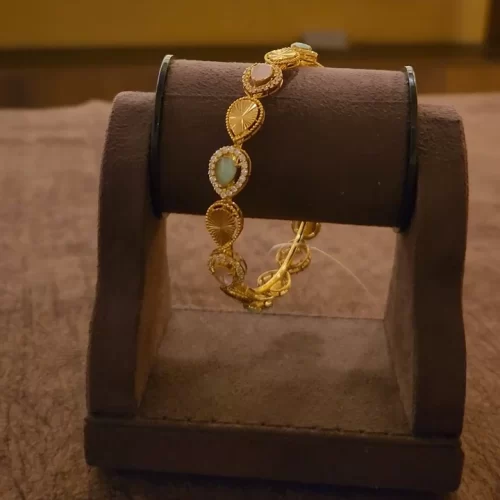 An underrated gold bangle that comes at 16 gm with stones that gives the sparkly effect on a bride's special day. Even though the stones aren't natural it is easily one of the crowd's favourite jewellery in the shop. Moreover, opting for artificial jeweller stones over natural ones won't make a significant dent in your wedding budget. The use of pastel shades in the stones amplifies the bride's aura and spirituality on her special day. 
Three sovereign gold intricate designer bangles with CNC Cutting by Millenium Gold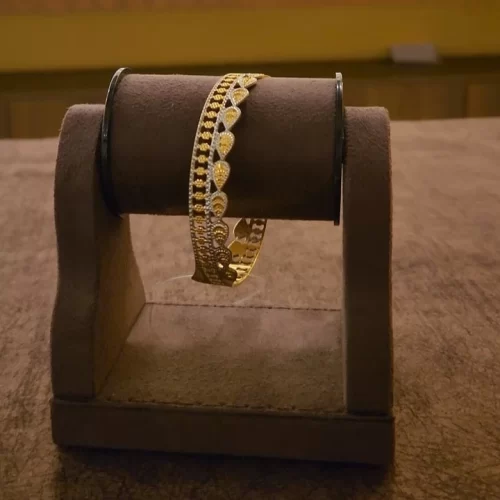 Designed purely for brides, this 3 sovereign gold bangle has been made out of the latest CNC cutting machine. It is obvious from the level of detailed work that how superior CNC cutting really is. I can say for certain whether in my Jewellery or in Millenium, this design stock hardly lasts. So I would recommend purchasing it even months before your wedding according to its availability.
Choose Wisely – A bride always has to consider bridal attire while choosing jewellery. But it is also recommended to select those designs which could be worn on other occasions too. One should also consider the durability of the ornament and the long-term design appeal while purchasing the ornament.
Choosing the Best Design  –  Choosing designs for your bridal jewellery is a tedious task. Every bride desires to check out the designs of every piece of jewellery and buy the best among them but it is not practically possible. I recommend every bride to visit GoldZouq and select designs from every jeweller.
Right Making Charges – Paying heavier making charges is not acceptable for any customer and is the duty of every customer to ensure the making charges are accurate before paying the final bill. The Jewellery price calculator in GoldZouq will be handy for every bride to check the percentage while shopping.
Keeping it Safe – Keeping the ornament safe and clean is also very important. Most people prefer bank lockers for the same and it is always recommended to keep the ornament in a tightly packed box provided by the jewellers to prevent it from fading and tarnishing.