Evergreen Gold Jewellery Ideas for Men
What is the first thing that pops into your head when you think about men's Jewellery? 
Is it a taboo topic that shouldn't be addressed? or is it something you are willing to openly talk about?
Whatever the answer may be through direct messages I got through Linkedin, it was clear people wanted to know about the best gold jewellery options available for men. Hence, I have curated this blog for you on which jewellery you should consider and also give you tips to keep in mind before purchasing men's jewellery. 
Without further adieu let's dive right into the topic, upon doing some legwork and some asking around among my fellow male peers, I figured out that these three are the go-to product of choice for them.
Jewellery come in all shapes and sizes, but it is highly recommended for men to go for one that is very light, especially those that do heavy labour on a daily basis. I have found myself in the jewellery shop having neck pain because of wearing a chain that has a certain weight. But you gotta consider the occasion as well, it is useless to wear a lightweight chain to attend a wedding. So here are some of the handpicked designs for men from GoldZouq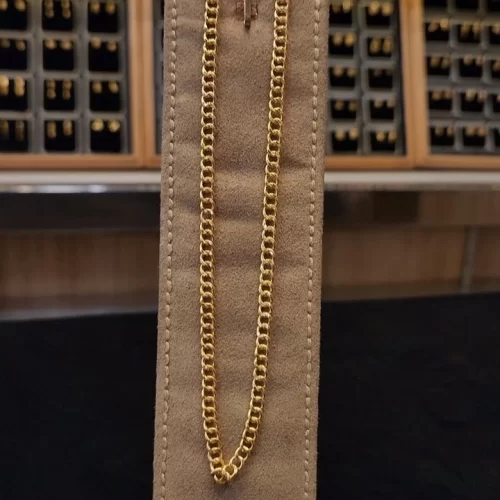 Named after one of the all-time greatest cricketers of our generation Virender Sehwag, the chain is a connection of loops, possibly in connection to Sehwag's playing style. I found this design extremely appealing, it only comes around 6 gm and is possibly one of the best chains you could opt for. I particularly chose this design to find that fine line between attention and subtlety. Sehwag chain does have its appeal even worn inside the upper garment, as one doesn't have a hard time spotting the necklace from a distance because of the neck being exposed. The chain is an excellent everyday wear but if you have a lifestyle where you are unaware of your surroundings, you will succumb to snatching. A friend of mine shared a story with me where he found himself on the ground while he was working, as two people came in on their bikes and ripped his Sehwag chain off his neck. He was wounded in the process but has filed a complaint to the authorities. So if possible avoid wearing not just the Sehwag chain but any chain when you are unable to focus on your surroundings. 
Sachin Chain Gold Bracelet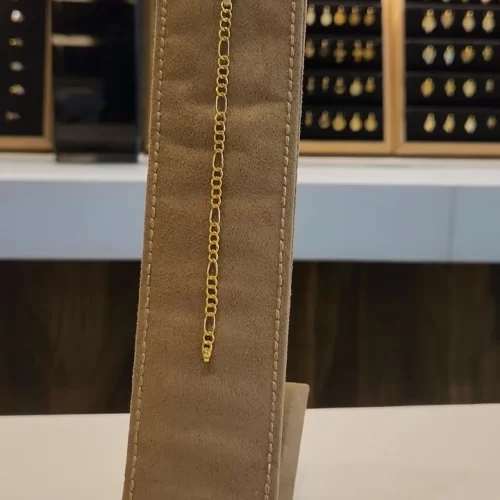 Named after the master blaster Sachin Tendulkar, this bracelet is easily my favourite bracelet not just because I use it myself on a daily basis but also because of the crowd's popularity.  The bracelet in itself is a really hollow design, allowing a lot of air to pass in between. Sweat precipitants are significantly reduced which results in a non-frequent cleaning regime. I personally use this bracelet as everyday jewellery and I haven't found any problem with it. The hook, the design and the touch and feel all are up to the mark. But I did hear that some find this design to be easily coming off from their hands, for that I would suggest going for a lesser size one so it fits right. There was this trend where people used to let the bracelet let it hang from their wrists,  but doing so invites the risk of losing the jewellery entirely.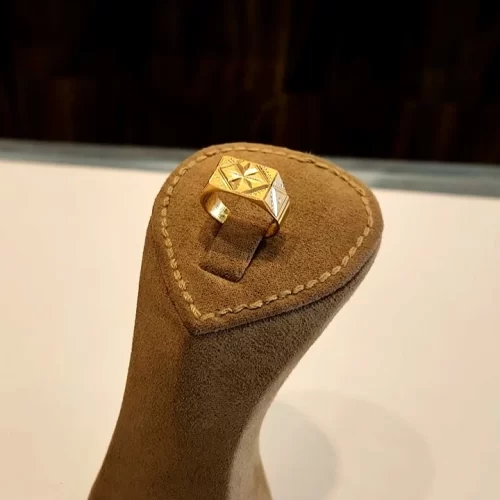 A minimal men's ring that symbolises the cosmic starburst. From what I could find out there is a huge fanbase for such a simple design ring purely because there is a huge chunk of men who find minimalistic jewellery appealing. As far as a gold ring that attracts attention goes, this ain't one of them, the ring is almost unnoticeable until asked about it.  The ring is clearly suited for the working-class blue or white-collar employees, as it is as sturdy as they come and moreover, the men that used it all had the same opinion about the longevity and comfort of the Jewellery.
This was just a small insight into what I could conjure up for your queries. But at the end of the day as long you find a piece of sturdy yet sublime jewellery, I would suggest you not to think twice. I recommended those products because I used each of them first-hand, and could tell how well-crafted each of them is. If you didn't find these designs up to your stands I would suggest checking out the men's jewellery designs from Chungath, Jos and Vellanikaran Jewellers respectively as they are known for providing some of the best male-catered jewellery designs.