Top 10 Finest Jewellers In Surat
Kalamandir Jewellers started in 1986 in Kosamba near Surat, Gujarat. It began as a small store with a team of five members. Over 36 years, the brand grew to become one of India's leading jewellery retail brands, with more than 650 dedicated staff serving customers. Kalamandir Jewellers is known for its trust, reliability, and quality.
The staff at Kalamandir Jewellers are attentive, kind, and supportive, providing high-class customer service that leaves customers pleased with their experience. The showroom's infrastructure is also impressive, with ample car parking space, making it a convenient location for jewellery shopping.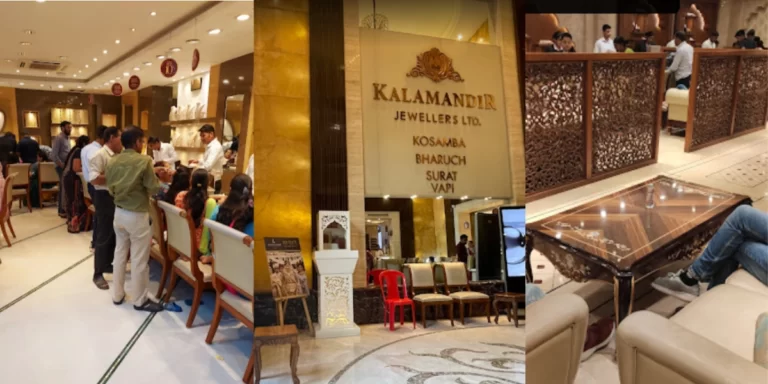 Customers appreciate the store's commitment to quality, as they even buy back old gold jewellery and melt it in front of customers, checking the gold purity and offering rates accordingly. Overall, Kalamandir Jewellers is an outstanding place to buy any type of jewellery and provides a great experience to its customers.
No of shops in Surat: 4 (including Mia by Tanishq)
Tanishq is a leading Indian jeweller that started in 1994 with 18k gold watches and has since grown to offer a range of gold and diamond jewellery. They prioritize artistry and aim to balance traditional and contemporary designs. Tanishq has implemented innovative measures to ensure high-quality materials and ethical sourcing, making it India's most trusted jewellery brand. With over 200 stores catering to the unique needs of their customers, they offer a personalized retail experience.
Tanishq is a jewellery brand that its customers highly recommend. The showroom offers a wide range of diamond products, and the store's ambience is well-maintained, providing a wonderful shopping experience. Customers appreciate the staff's knowledge and excellent service, with special mentions for Khusboo and Dharasi(Works in Surat Showroom). Niraj Sir(Works in Surat Showroom) is also highly regarded for his expertise in guiding customers and providing detailed information about the jewellery they are interested in.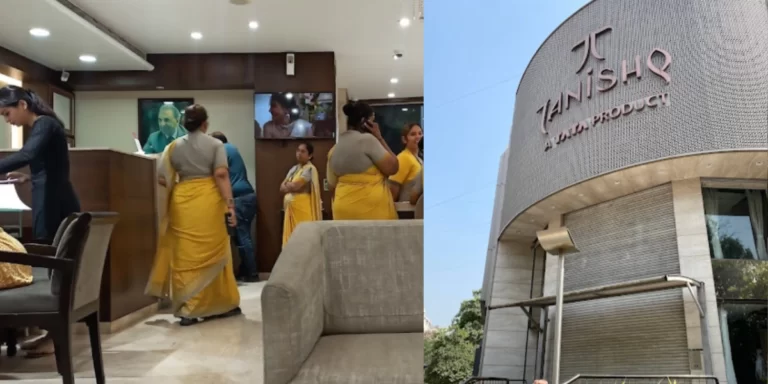 Tanishq is a one-stop shop for all jewellery purchases, providing customers with friendly and helpful staff who guide them through every purchase detail. The brand is known for its good quality gold and trendy designs, making it a great place for jewellery shopping.
Customers are impressed with Tanishq's focus on service, both during and after the purchase, making it a reliable brand to do business with. Overall, Tanishq's jewellery collection, excellent service, and commitment to quality make it a highly recommended jewellery brand.
Kalyan is a jewellery retailer based in Thrissur, Kerala, India. With over 150 showrooms in India and GCC as of March 31, 2022, Kalyan offers a range of traditional and modern jewellery designs in gold, diamonds, and other precious materials.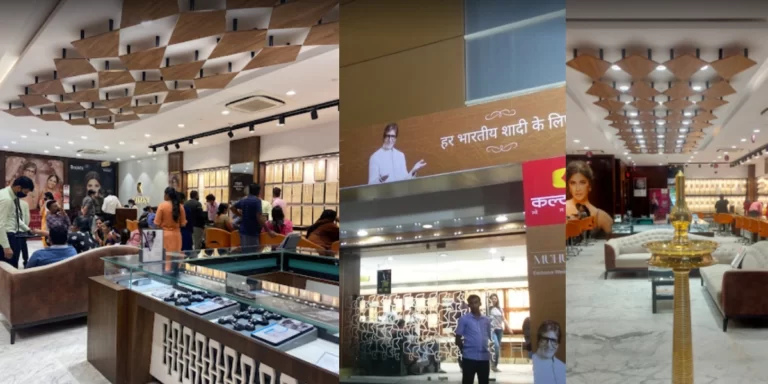 They prioritize customer education to prevent business malpractices and have conducted numerous campaigns on purity, pricing, and other aspects. Due to their earned trust, Kalyan plans to expand into new markets, including the USA, Singapore, Malaysia, and Sri Lanka.
4. Tribhovandas Bhimji Zaveri
Tribhovandas Bhimji Zaveri (TBZ) is a jewellery brand serving customers for many years. The brand is known for its nice design and unique collection of jewellery, making it a reliable and trustworthy brand to buy from. Customers appreciate the exceptional service provided by the staff, with special mentions for Mr Nayangiri, Kajal, Rakeshbhai, Harshaben, and Ms Savita Sharma, who are helpful, patient, and cordial.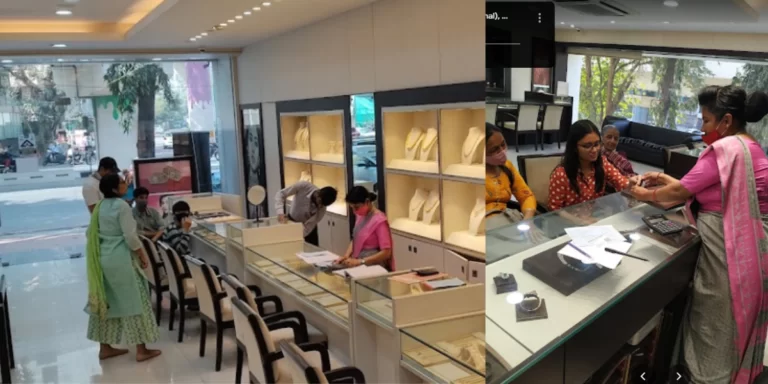 TBZ's staff are experts in their field, providing customers with valuable guidance and insights into the jewellery they are interested in. Customers appreciate the staff's commitment to spending time with them and showing them a wide range of designs, making them feel comfortable and confident in their purchase.
The brand's commitment to unique designs and trustworthy service has earned it a loyal customer base, with some customers having shopped at TBZ for over 15 years. TBZ is a reliable and trustworthy jewellery brand that provides customers with exceptional service and unique jewellery designs.
No of shops in Surat: 3
Based on the reviews, M N Jewellers is a popular jewellery shop in Surat. Customers appreciate the designs, and staff members are described as helpful and providing excellent service.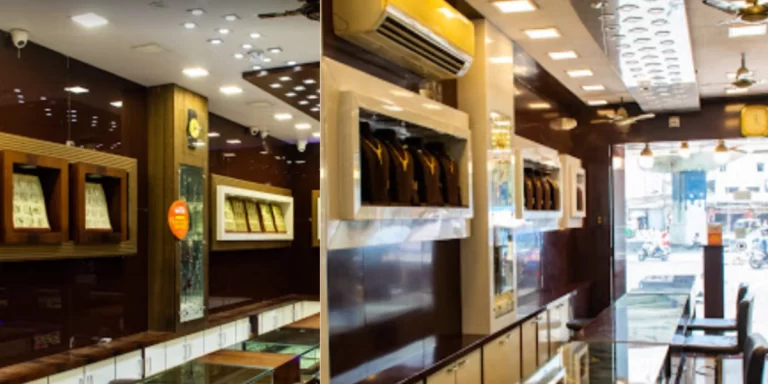 The store is also considered trustworthy, making it a recommended place for jewellery purchases.
Based on the reviews, it can be concluded that Charu Jewels is a highly recommended jewellery store in Surat with excellent customer service and a unique and beautiful collection of diamond jewellery.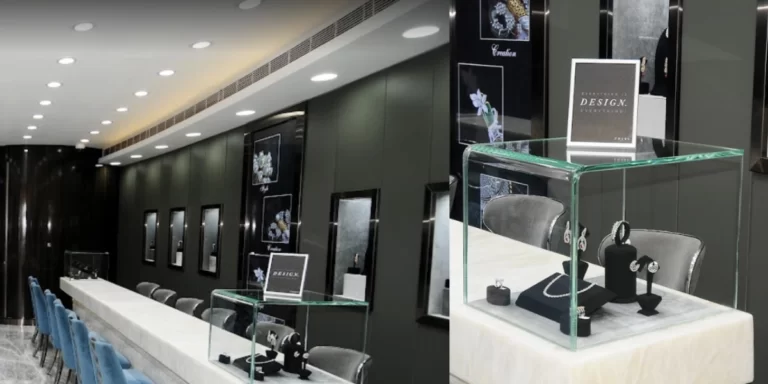 Customers appreciate the warm welcome and friendly staff, who are knowledgeable and patient in explaining the details of the product. The store ambience is also appreciated. Customers are impressed with their shopping experience and feel it's worth spending money on their jewellery.
7. Shah Virchand Govanji Jewellers
From the reviews, Shah Virchand Govanji Jewellers has a good collection of unique jewellery with a lot of variety. The staff is polite, friendly, and patient, showing the pieces and helping customers choose the right jewellery.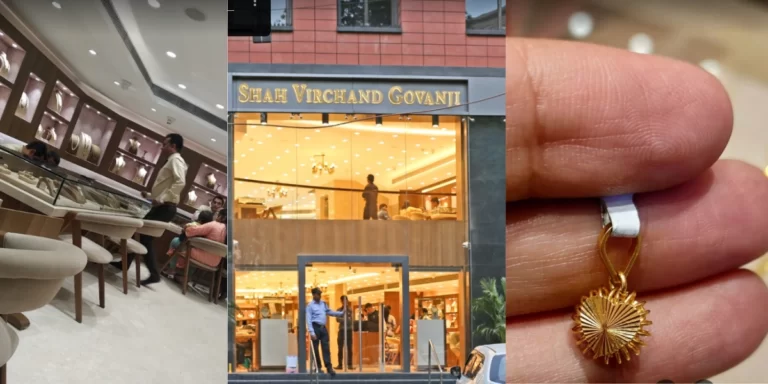 The overall experience is pleasant and peaceful, without any pressure or rush. Customers also appreciate the service provided by specific staff members, such as Kavita Jariwala. The showroom is praised for its temple jewellery and the quality of its ornaments. The owners are described as polite and down to earth, which adds to the positive experience at the store.
Based on the reviews, Shah Virchand Govanji Jewellers seems to be a trusted and customer-friendly jewellery store. Customers appreciate the variety and uniqueness of their collections, as well as the helpfulness and patience of their staff. The owner, Kamleshbhai, is also mentioned positively for his attentiveness and dedication to customer satisfaction.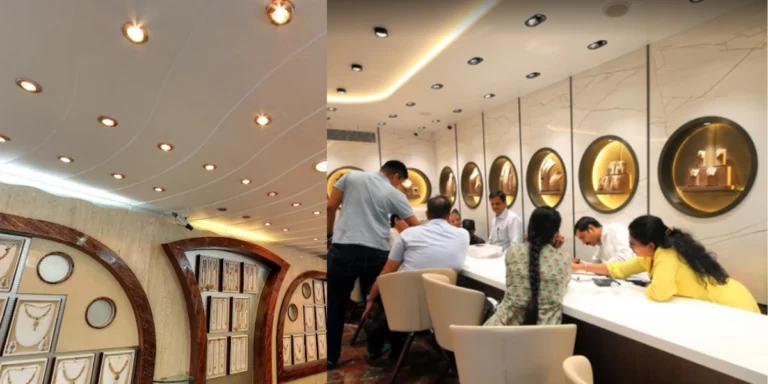 Additionally, customers note the reasonable prices and low labour charges compared to other jewellers. Overall, Shah Virchand Govanji Jewellers is a reliable and trustworthy option for those searching for high-quality gold jewellery.
Their reviews speak highly of the service and quality of the jewellery shop in Surat. The staff is praised for going above and beyond to assist and value customers. The high quality of jewellery and range of products are also appreciated.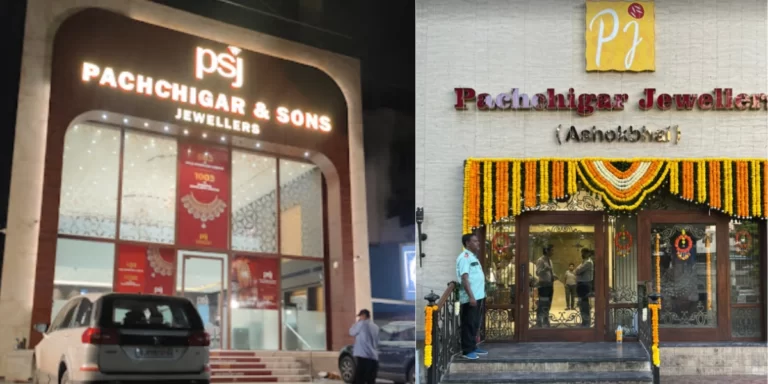 The shop is also described as a trusted source of gold jewellery with fair prices and certifications and offers gold replacements at current prices. The reviews indicate a positive and trustworthy reputation for the jewellery shop.
Based on the reviews, Zota Jewel seems to have a great selection of jewellery with unique designs, and their staff is highly professional and helpful. Customers seem to appreciate the reasonable pricing and authenticity of their products.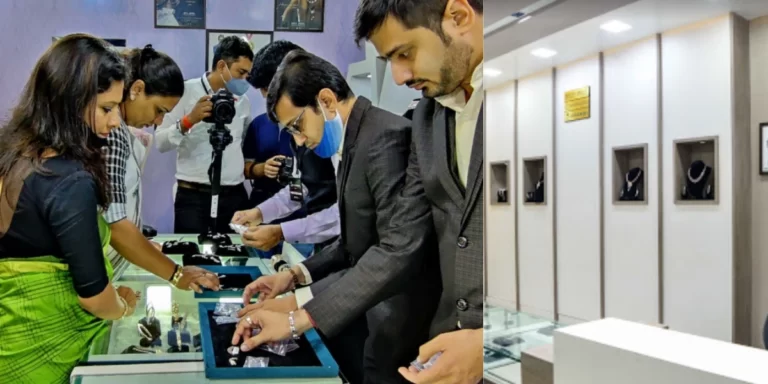 It's also noted that customers have travelled from different cities to shop here and have had a great experience.