Top 10 Best Jewellers In Mumbai
Mumbai, the city of dreams, is known for its glamour and luxury, and there is no shortage of stunning jewellery to match. From traditional Indian designs to modern contemporary pieces, Mumbai boasts some of the best jewellers in the country. Whether looking for exquisite diamonds, rare gems, or intricately crafted gold pieces, Mumbai's top 10 best jewellers have something for every taste and budget. So let's take a closer look at these top-rated jewellery stores and their unique collections.
Manubhai Jewellers, located in Borivali West, Mumbai, is a jewellery house that has managed to preserve India's heritage while adapting to modern culture. Known to be one of the best gold jewellers in Mumbai, Manubhai has dedicated its interest to specialized bridal jewellery called Madhuban, making it one of the best jewellery shops in Mumbai. Inspired by Italian craftsmanship, the Italian Delight collection is another unique offering by Manubhai.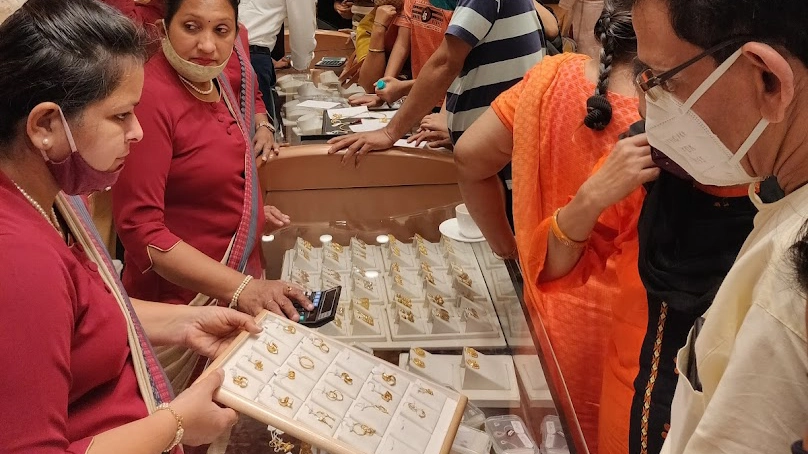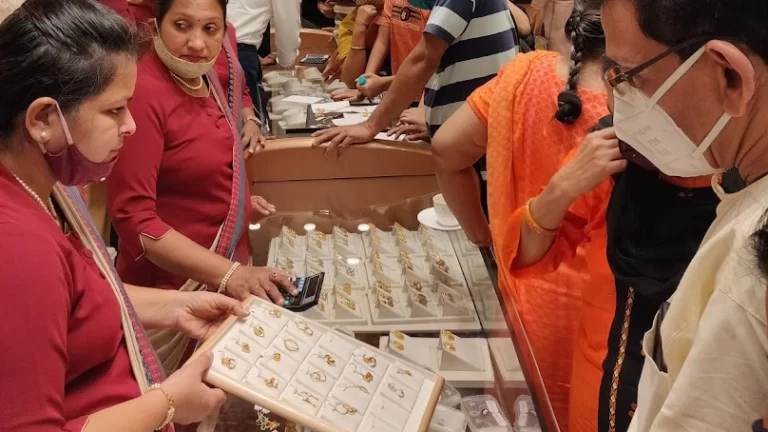 The Diamond Diva and Stardust collections are some of the signature diamond jewellery collections that Manubhai offers. The Bombay Brides collection, centred around the quintessential modern and vibrant Bombay Bride, is one of their most popular collections. With various options and unparalleled customer service, Manubhai Jewellers is undoubtedly one of the most sought-after destinations among the best jewellers in Borivali West, Mumbai, and the best gold and diamond jewellers in Mumbai.
Nestled in the heart of Mumbai, Tanishq Jewellery has been synonymous with timeless elegance and exquisite craftsmanship since its inception in 1994. From its humble beginnings as a producer of 18k gold watches, Tanishq has evolved into a 22K jeweller renowned for its stunning range of gold and diamond jewellery.
With a deep understanding of the Indian woman's varied needs and preferences, Tanishq's designs capture the beauty and celebration of special occasions. The brand's special wedding collections catering to every community across India through Rivaah have made Tanishq the leading wedding jeweller in the country.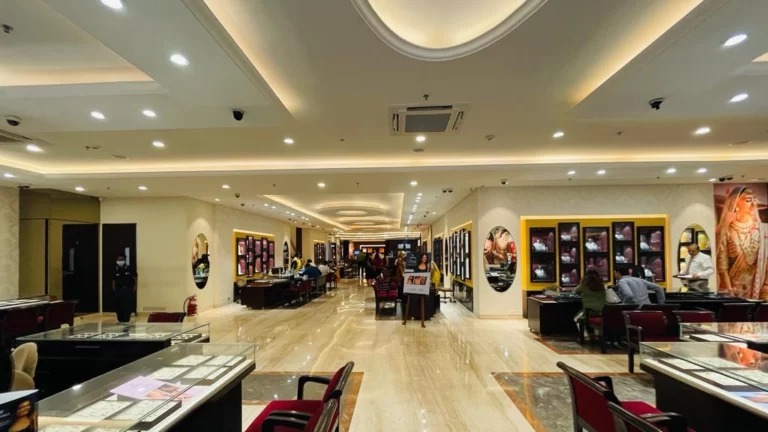 But Tanishq's success is not just due to its beautiful designs but also the brand's unwavering commitment to excellence. The Karatmeter, a pioneering innovation to check the purity of gold, and stringent quality checks for all its gold, diamonds, and precious stones have earned Tanishq the trust of its customers.
Visiting a Tanishq store is not just about buying jewellery; it's about experiencing the brand's unparalleled retail experience, where every customer's unique needs and preferences are considered. The sales personnel are patient, courteous, and professional, and the environment inside the shop is serene.
From traditional designs for the older generations to the latest trendy designs for the younger generations, Tanishq offers every customer a wide range of choices. The option of heavy and everyday jewellery with reasonable making charges is another reason why customers keep coming back to Tanishq. Additionally, the brand offers additional discounts on special occasions of customers' anniversaries and birthdays.
All in all, Tanishq Jewellery is not just a brand; it's an experience that celebrates the beauty and elegance of every Indian woman.
3. Krishna Pearls and Jewellers
In the heart of Mumbai, Krishna Pearls and Jewellers is a jewellery store passionate about fine-quality pearls and gemstones. Founded over 40 years ago by Mr Mukundlal and his son Mr Devender Kumar, the store has revolutionized the pearl and jewellery trade in Hyderabad. With a dedicated team of in-house artful precision graders, designers, and skilled technicians, they assess every piece of pearl, diamond, and stone jewellery to ensure each design is as unique and beautiful as possible.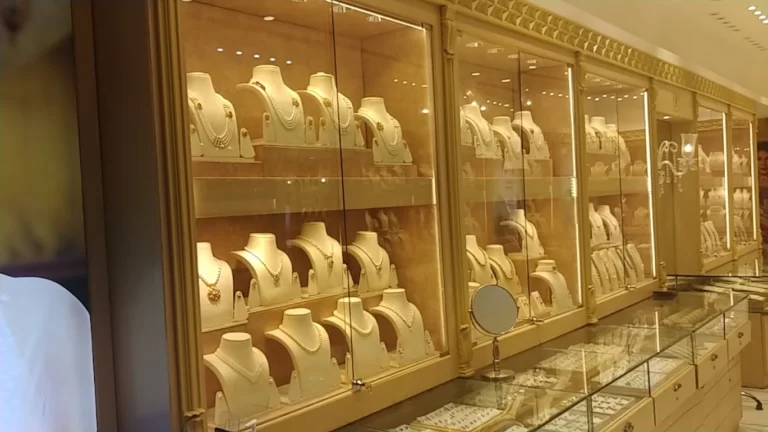 Krishna Pearls and Jewellers has been recognized internationally as the first pearls and diamond and stone jewellery source. Their exceptional creations of jewellery pieces, be it with pearls, diamonds, or colour stones, define their craftsmanship. A Certificate of Authenticity accompanies every piece of jewellery as an assurance of quality. Customers rave about their beautiful, unique designs, friendly, knowledgeable staff, and exceptional pearls and gemstones. Whether you're looking for a pearl ring or a diamond necklace, Krishna Pearls and Jewellers is the ideal place to find a lovely gift that is both unique and affordable.
4. Waman Hari Pethe Jewellers
If you're looking for a jewellery store with a rich history and unparalleled reputation, Waman Hari Pethe Jewellers is the place to be. Established in 1909 by two brothers with a vision beyond their time, the brand has become a trusted name in jewellery.
With a dedicated team of professionals, WHP & Sons have expanded to twelve showrooms across Maharashtra, catering to retail and corporate clients. Their commitment to transparency and customer satisfaction has earned them a loyal customer base, with many returning year after year.
While some reviewers have commented on the pricey making charges, the quality of the jewellery and the range of options available makeup for it. Their gold coins and souvenirs in silver are also worth checking out.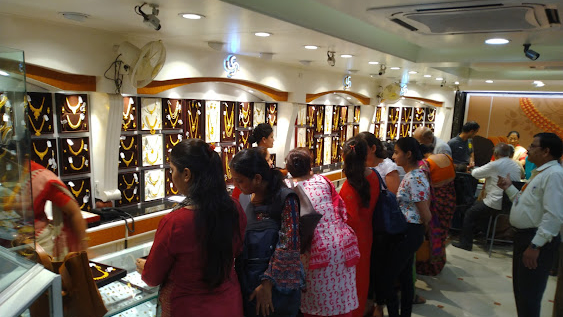 With cooperative and knowledgeable staff, the shopping experience at WHP & Sons is a delight. Customers point out that Waman Hari Pethe Gold is easily recognizable, making it the perfect choice for gifting to loved ones. The only downside is that the store is in a busy area near the station, which may make parking challenging.
In short, Waman Hari Pethe Jewellers is a jewellery store with a flawless reputation, glowing image, and strong goodwill built over 100 years. A perfect blend of tradition and modernity, it's a place where you can find exquisite jewellery that's sure to leave a lasting impression.
Kalyan Jewellers is not just a brand but a legacy that has stood the test of time. With over 150 showrooms spread across India and GCC, Kalyan Jewellers has been a symbol of trust, transparency, and quality craftsmanship since its inception in 1993 in Thrissur, Kerala.
Their jewellery collection reflects India's rich heritage, culture, and diversity, blending traditional and contemporary designs in gold, diamonds, precious stones, and other precious metals. Kalyan Jewellers is dedicated to educating customers about purity, pricing, and other essential aspects of jewellery retailing, making them a trusted source for all your jewellery needs.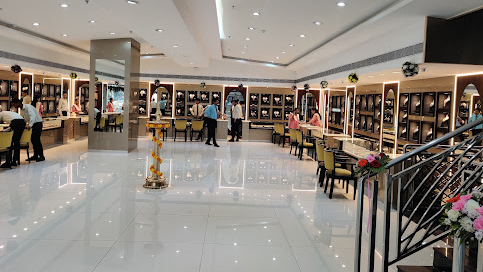 At Kalyan Jewellers, customer satisfaction is a top priority. The customer-friendly staff provides excellent service, making your shopping experience delightful. The environment is positive, making it an ideal destination for jewellery lovers. The designs are eye-catching, and the varieties are awesome. The customers feel it's worth every penny spent.
However, the latest feedback has stated that the making charges could be excessive, ranging from 20% to 30% of the gold value. Despite this, the overall experience was still good.
Kalyan Jewellers' dedication to quality, transparency, and customer satisfaction has earned them an impeccable reputation. With their expansion plans into new markets like the USA, Singapore, Malaysia, Sri Lanka, and more, they are all set to take the world by storm. Visit Kalyan Jewellers at Aura Complex at Swami Vivekananda Rd in Mumbai, and experience the joy of jewellery shopping.
Aashirwad Jewellers is a name that is synonymous with excellence in jewellery craftsmanship, purity and value. With a legacy of over 30 years, Aashirwad Jewellers has become the go-to destination for customers who value quality, variety and customer service. Located in the heart of Kurla West, Mumbai, Aashirwad Jewellers offers an extensive collection of jewellery pieces that cater to all tastes and preferences. 
What sets Aashirwad Jewellers apart is its commitment to customer satisfaction. The team at Aashirwad Jewellers goes above and beyond to ensure each customer has a memorable experience. The staff is polite, friendly and always ready to help customers find the perfect piece of jewellery for their needs.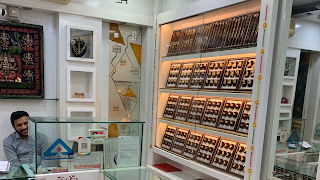 Customers who have shopped at Aashirwad Jewellers have praised the store for its fair deals and reasonable prices. The store also offers home delivery, making it even more convenient for customers.
Aashirwad Jewellers specializes in customized jewellery, making it the perfect choice for creating a unique piece that reflects their style. The store uses only hallmarked gold, ensuring customers receive only the best quality jewellery.
PNG Jewellers is a treasure trove of exquisite jewellery and a rich legacy of tradition and values. Since the 18th century, PNG Jewellers has been capturing the hearts and imaginations of customers with their timeless designs, impeccable craftsmanship, and a commitment to trust, purity, and ethics.
With a global footprint, PNG Jewellers has come a long way from its humble beginnings as a single store in a small town. Today, the brand is synonymous with quality and innovation, offering a wide range of traditional and contemporary designs that are updated frequently to keep up with the latest trends.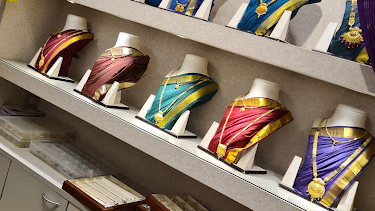 But what truly sets PNG apart is its commitment to purity. The gold you buy here is free from impurities, ensuring that your investment in jewellery will last a lifetime. And with pocket-friendly yearly schemes to buy gold, it's easier than ever to own a piece of PNG Jewellers' legacy.
Melorra Jewellery is a treasure trove of unique and stylish pieces that captivate any jewellery lover's heart. Located in the bustling Phoenix Palladium Mall, Melorra Jewellery is a haven for those who appreciate modern designs and impeccable craftsmanship. Melorra Jewellery designs are made for the contemporary wardrobe. If you love putting together your look but have never found the right piece of jewellery to match your Western wardrobe, look no further than Melorra. They have fashion stylists and jewellery designers working together to create fashion-inspired designs that are playful, comfy, and on-trend. From pool parties to office outings, Melorra offers the perfect light, contemporary jewellery you can wear for different occasions.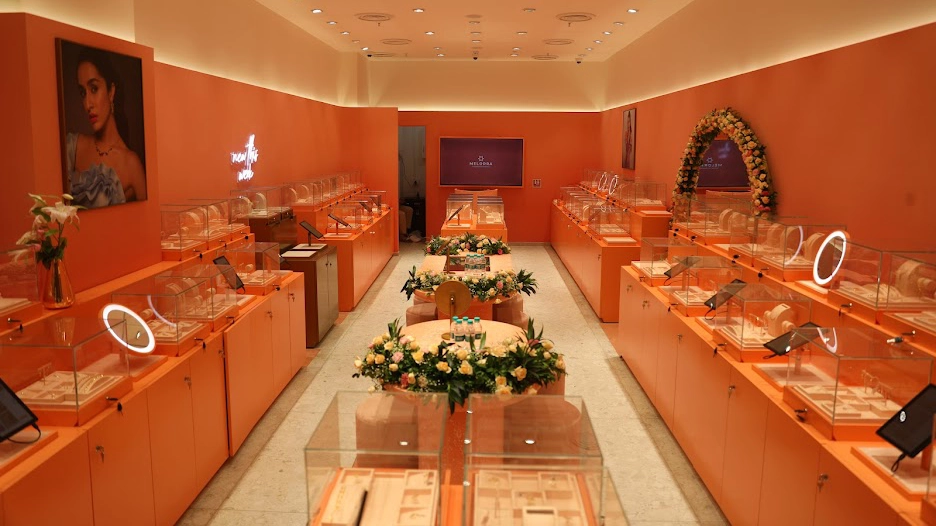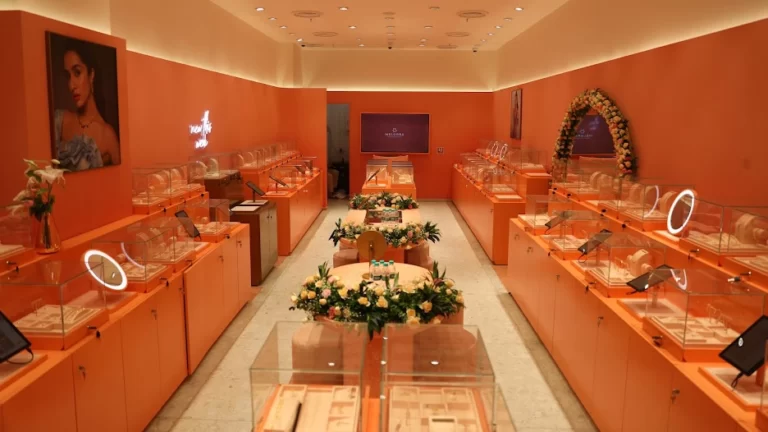 Melorra's commitment to staying ahead of global fashion trends makes it unique. They have a team of global trend-spotters tracking styles that'll cut today's fashion scene across global runways like Paris and Milan. 
Melorra also supports girl child education through a not-for-profit organization, Educate Girls. They have helped ensure over 90% enrollment and higher attendance, improved school infrastructure, quality of education, and learning outcomes for all girls, and enrolled more than 110,000 girls in school who were out of school. Melorra makes a humble contribution of ₹100 from the profit of every sale.
Melorra is backed by Lightbox Ventures, one of India's most successful track records in Venture Capital. They have received one of the largest ever seed funding rounds in Indian history of $5 million.
9. Shree Neminath Jewellers
Shree Neminath Jewellers is more than just a jewellery store – it is a legacy built on trust, excellence, transparency and quality. Founded by Shri Sagarmalji Jain, this jewellery store became a household name in Mumbai for both modern and traditional Koli ornaments. Shri Sagarmalji Jain's son, Chintan Jain, now runs the business and has expanded both the relationships with his clients and the size of his business.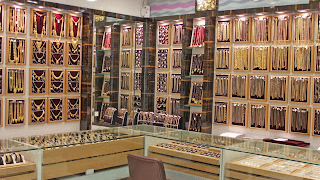 Shree Neminath Jewellers offers bespoke, artistically crafted jewellery with uncompromising quality, craftsmanship, and innovative designs. The staff are friendly and provide excellent service, ensuring every customer is satisfied with their purchase. If you have a design in mind, Shree Neminath Jewellers can bring it to life.
10. Tribhovandas Bhimji Zaveri
For over 158 years, TBZ – The Original has been synonymous with exquisite jewellery designs that epitomize femininity, elegance, and grace. Located in the heart of Mumbai's Zaveri Bazaar, TBZ – The Original is a brand coveted for its innovative designs, exemplary workmanship, and trust.
Their collection of jewellery pieces is not only aesthetically designed but also comes with a buyback guarantee, making them a trusted choice for weddings, celebrations, and everyday wear. TBZ – The Original was the first in India to promote the concept of lightweight precious jewellery, offer lifetime buyback on gold and diamond jewellery, provide certified solitaire diamonds, and introduce 100% BIS hallmarked 22-karat gold jewellery.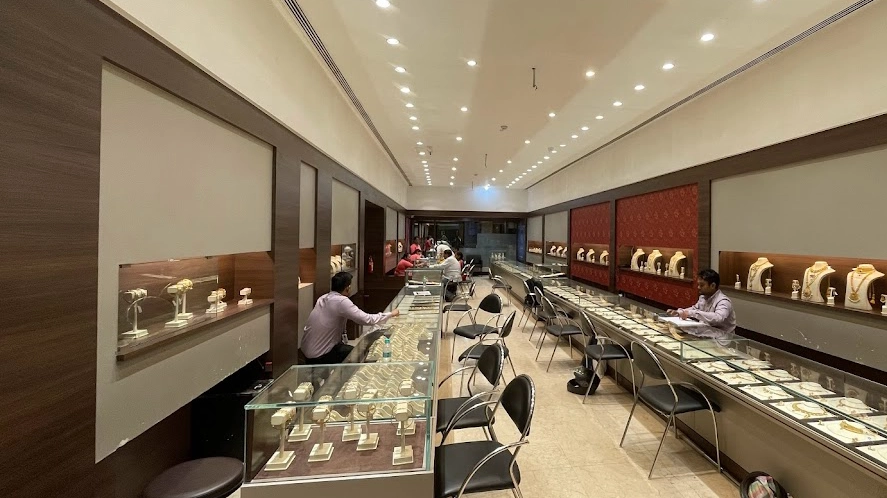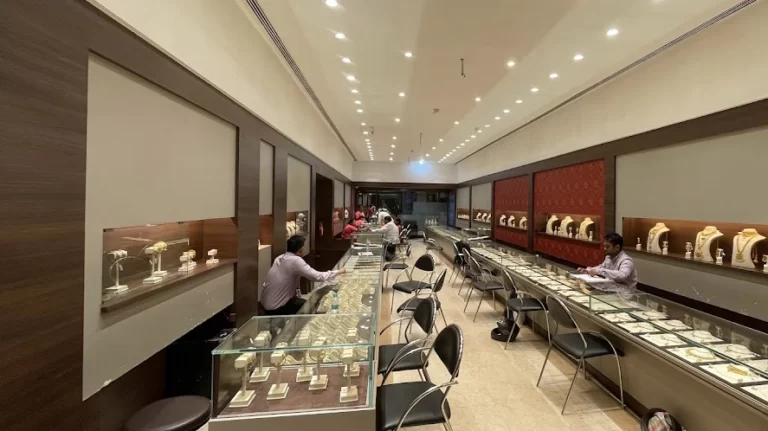 Their commitment to quality, craftsmanship, and innovation is reflected in the state-of-the-art manufacturing unit they use, bringing cutting-edge technology to jewellery making while still prioritizing the art and purity of the jewel above all else. Their designs combine a timeless vintage look with modernity, a truly future-forward vision, and the melding of traditional craft with current designs.
With highly trained personnel at each store, they understand the customer's requirements and help them make the best possible choices.
Customers have shared their positive experiences praising the store for its good collection, knowledgeable salesperson, and understanding of the customer's needs. With a legacy of putting the customer first, their commitment to quality, craftsmanship, and ethical business practices is unmatched. Visit TBZ – The Original at their Zaveri Bazaar branch and experience the excellence that has made them a leading jewellery brand for over 158 years.
Mumbai is home to some of the best jewellers in India, placing it right up there with Kerala and Bangalore, which offer exquisite and unique designs that cater to the diverse tastes and preferences of their customers. Each of the jewellers listed in this top 10 has its distinct qualities and strengths. Mumbai is home to some of the best jewellers in India, who offer exquisite and unique designs that cater to the diverse tastes and preferences of their customers. Each of the jewellers listed in this top 10 has its distinct qualities and strengths.