Personalized Jewellery Ideas For Couples
When it comes to expressing love and affection, personalized jewellery can be a wonderful option for couples. Enabling you to create a truly unique and meaningful piece that represents your relationship in a special way. Through wearing this jewellery, you carry a symbol of your love with you every day, reminding you of the special moments you have shared along the way.
The Gold Thali - A Cultural Treasure that Transcends Time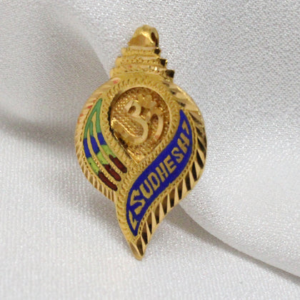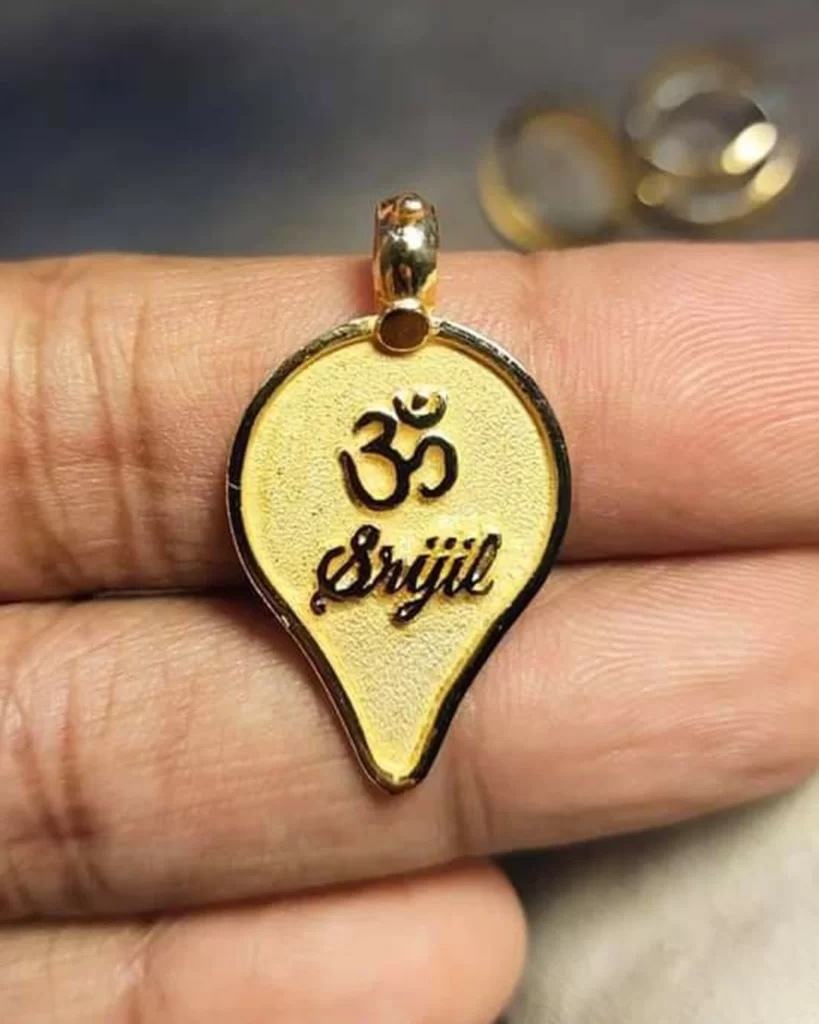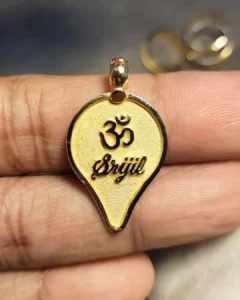 Thali, a traditional piece of jewellery worn by a married woman in South India, is a timeless fashion in Indian culture. Also known as the Mangalsutra or Thirumangalyam, this synonym for commitment is portrayed as a sacred piece of jewellery. During the wedding ceremony, the Thali is tied around the bride's neck evidently changing her marital status.
The Gold Thali is a customizable piece of jewellery that can be tailored to the wearer's individual preferences. Crafted from 22CT/916 gold, it boasts a rich yellow hue that complements its luxurious appearance. Weighing just 2 grams, the Gold Thali is a lightweight accessory that is easy to wear and comfortable to have on for extended periods. It is also available in all sizes, ensuring that it is suitable for all. Additionally, the design patterns used to create the Gold Thali vary according to regional and religious customs, making it a unique piece that reflects the wearer's heritage and cultural traditions.
Versatile and perfect for daily wear, the Thali can complement any attire on its own, without requiring any accompanying jewellery. With user-friendly and low-maintenance features, it requires minimal care to retain its radiance. The Thali symbolizes the wearer's cultural heritage and marital status, making it a precious and significant piece of jewellery.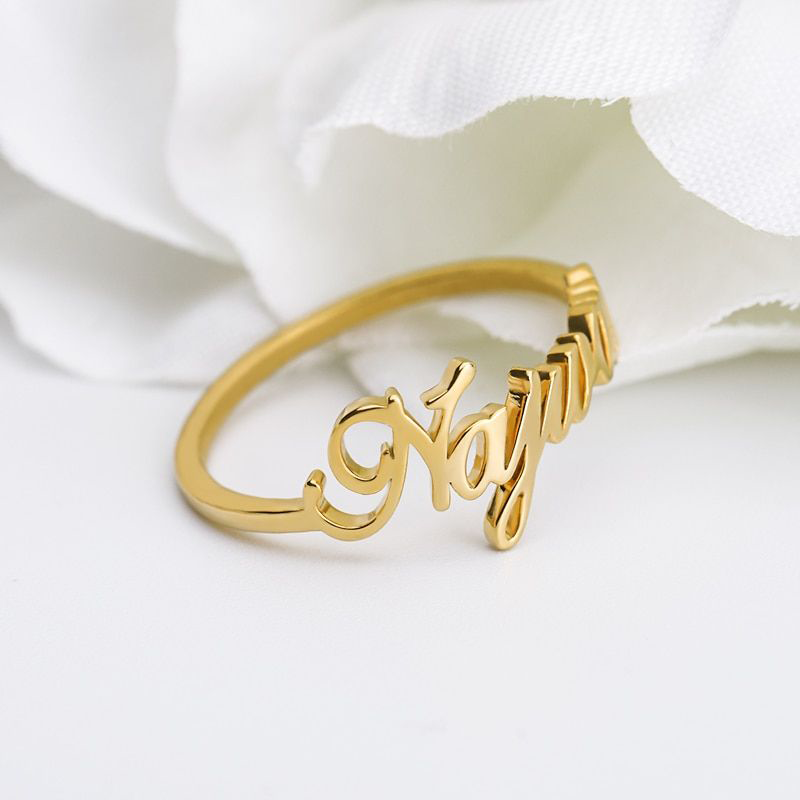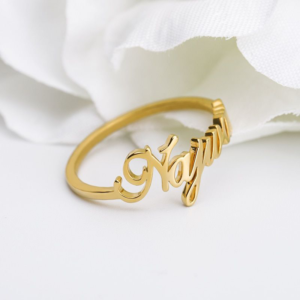 Wedding rings have been a symbol of love and commitment for centuries, and this timeless piece of jewellery continues to be an important part of wedding traditions around the world. The wedding ring listed above is a perfect example of a classic design that transcends time and trends. Made of 22CT/916 gold, it comes in various designs ranging from minimal to old style and is available in all sizes, making it an ideal choice for any couple.
Not only is this wedding ring beautiful, but it is also easy to maintain and customizable, allowing couples to add their personal touch. The lightweight and comfortable fit make it perfect for daily wear, and it goes well with any attire, making it a versatile addition to any jewellery collection. Most importantly, this ring serves as a symbol of the commitment between two people, worn by both the husband and wife to show their love and dedication to each other. It's no wonder why the wedding ring remains one of the most important and cherished pieces of jewellery for couples around the world.
Personalized Gold Pendants: A Trend That Connects Hearts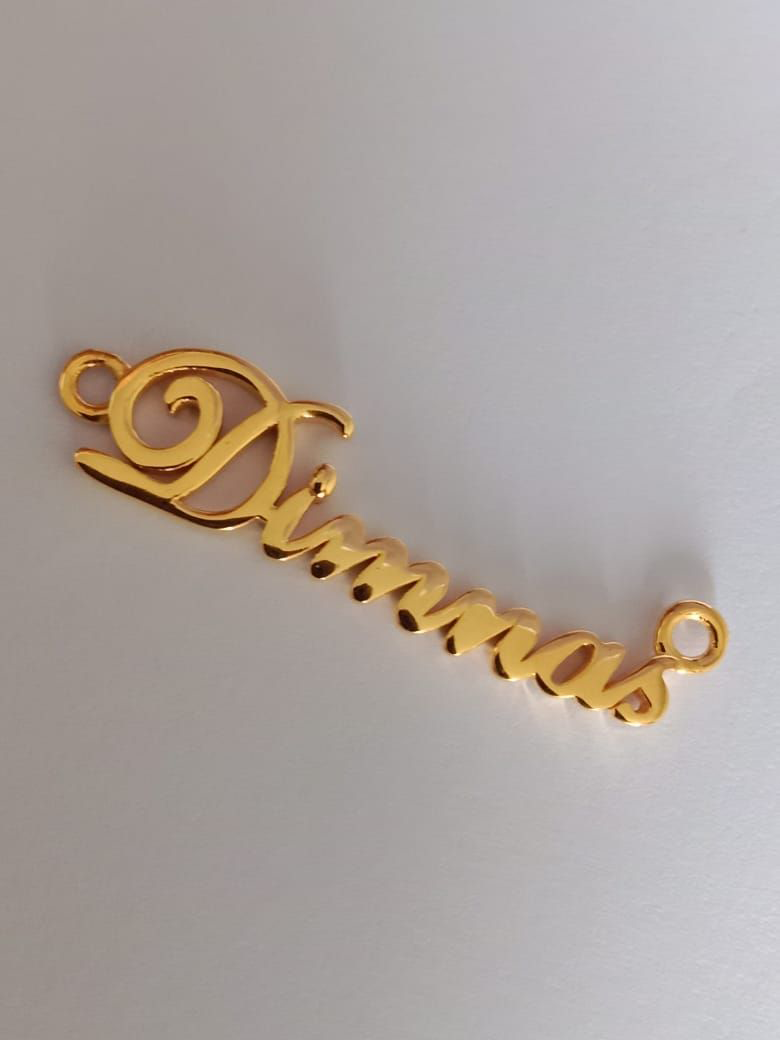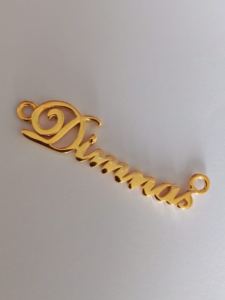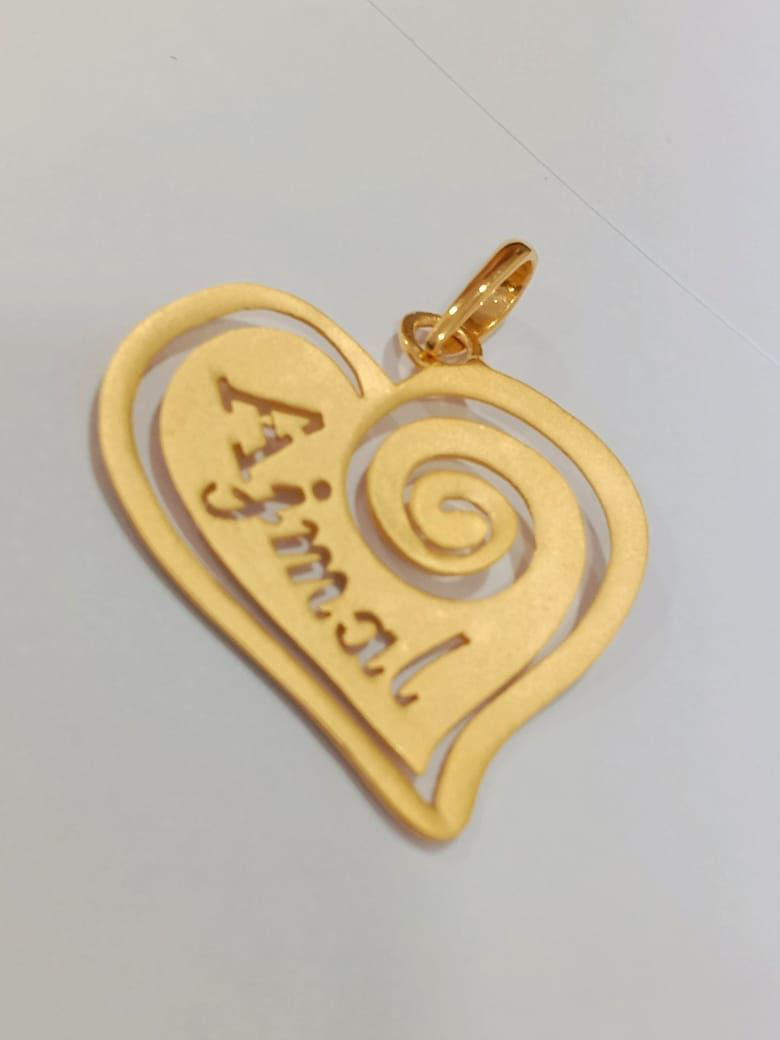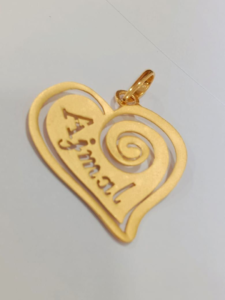 Pendants with names have become increasingly popular in recent years. These simple and elegant pendants can be customized with the name of a loved one, making them a perfect gift for special occasions such as birthdays, and anniversaries, or even just to show someone how much you care. The thin and simple design of these pendants makes them suitable for daily wear, and their lightweight construction ensures that they are comfortable to wear for extended periods.
Made from 22CT / 916 gold, these pendants are available in all sizes and can be easily maintained with minimal effort. They are versatile piece of jewellery that goes well with any attire and are not usually paired with other jewellery. The trend of wearing pendants with names has become popular worldwide, and they are mostly worn by women. The practice of using the name of the husband on a  pendant is a unique and meaningful way to keep your loved one close to your heart.