Latest Gold Choker Designs
Chokers are bold and stylish Jewellery with a long and fascinating history. They were first worn in ancient Egypt and Sumer, where it was popular belief that chokers had protective powers. Chokers remained popular through the centuries, and their meaning evolved over time. In the early 20th century, chokers were seen as a symbol of rebellion, while in the 1990s they were associated with minimalism and coolness. Today, chokers are still a popular fashion item, and they can be worn to add depth and personality to any outfit.
At Goldzouq, we understand the cultural significance of weddings and the essence of traditional jewellery in these joyous events. That's why we are proud to announce our partnership with Chungath Jewellery, one of the pioneering jewellers in today's world. In this article, we present a curated list of bangle designs, exclusively from Chungath Jewellery, that are perfect for weddings. Let's delve into the world of mesmerizing bangles that embody elegance and grace.
Why do people prefer to wear a gold choker necklace?
They are versatile accessories that can be worn with a variety of outfits. Chokers can be worn with casual clothes, formal wear, or anything in between.

They can add depth and allure to any look. A choker can draw attention to your face and neck, and it can also help to define your neckline.

They are a bold and stylish statement piece. A choker can make a big statement, and it can help you to stand out from the crowd.

They can be worn to accentuate your face shape and features. The right choker can help to highlight your cheekbones, your jawline, or your eyes.
Curated Gold Choker Necklaces from GoldZouq
In regards to our newly joined seller 'Vellanikaran Gold & Diamonds', we handpicked some of the latest gold choker necklaces from their fabulous catalogue of designs and created this curation.
Four sovereign Gold Choker Kotta Necklace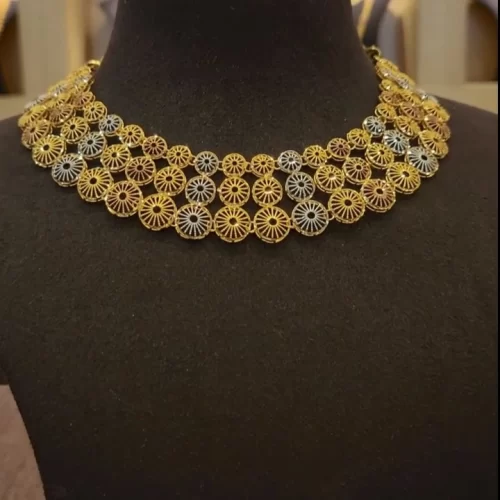 A classic simple gold choker kotta necklace made of 4 sovereign gold. The necklace features a simple and sublime kotta design that is perfect for everyday wear.
Gold Choker Lakshmi Temple Jewellery Necklace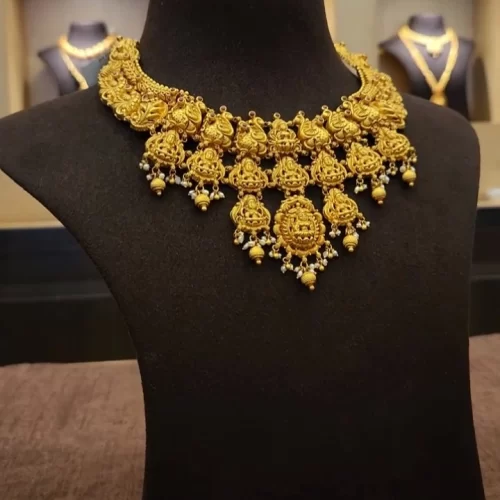 A beautiful gold choker Lakshmi temple jewellery necklace that comes under the latest gold choker designs with a weight of 6 sovereigns of gold. The necklace features a Lakshmi temple design that is both elegant and timeless. It is perfect for everyday wear or for special occasions.
Five sovereign Ruby Stoned Choker Gold Necklace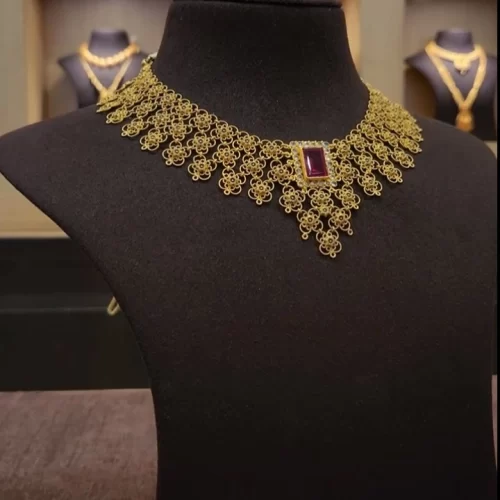 A stunning ruby-stoned clover choker gold necklace made of 5 sovereign gold. The necklace comes under simple gold choker necklace designs as it features a clover design with ruby stones that is both elegant and timeless. It is perfect for everyday wear or for special occasions.
These latest gold choker designs are just the tip of the iceberg when it comes to what else we have in store at Vellanikaran. Do check out their fabulous designs and walk into their store in Irinjalakuda to complete the purchase.