5 Jewellery Trends to Look Out for in 2023
Jewellery is an essential accessory that can add style and personality to any outfit. As we look ahead to 2023, new trends and styles are emerging in the world of jewellery that is set to take the fashion world by storm. From statement pieces to delicate designs, there is something for everyone in the latest jewellery trends. In this article, we will explore five of the top jewellery trends to look out for in 2023.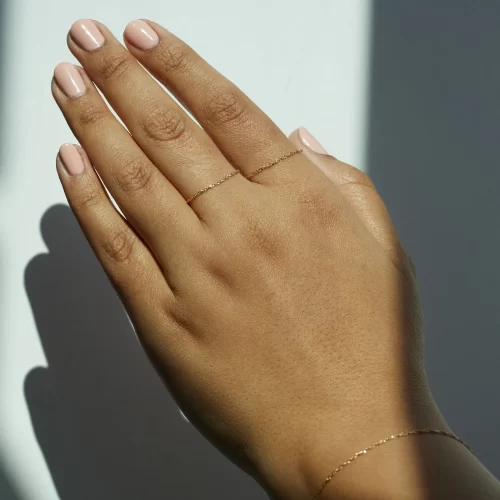 This minimalistic gold ring jewellery becomes an extension of yourself, so you may even forget you're wearing it. They can be worn as everyday jewellery and are a subtle yet stylish accessory. They make a great gift for a loved one or friend, or even as a treat for yourself. Overall, Sweet Nothing rings are timeless and sentimental pieces of jewellery that can hold special meaning for the wearer.
Available at : Shopmelt, Catbirdnyc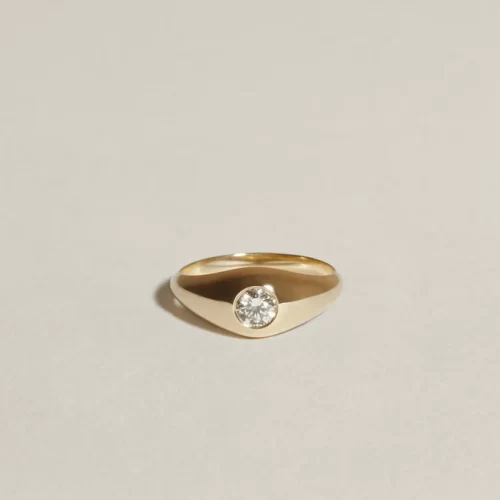 Chunky bands are trendy and versatile jewellery that anyone can wear. They come in various designs, ranging from simple to intricate, and can be made from traditional materials like silver and gold or unconventional ones like wood and resin. These bold rings can be worn alone or stacked with other rings to add personality and style to any outfit, from casual to formal wear. So, whether you prefer a sleek or textured design, there's a chunky band out there for you to flaunt your unique style.
'Chanel' Coco Crush Cuff / Large Cuffs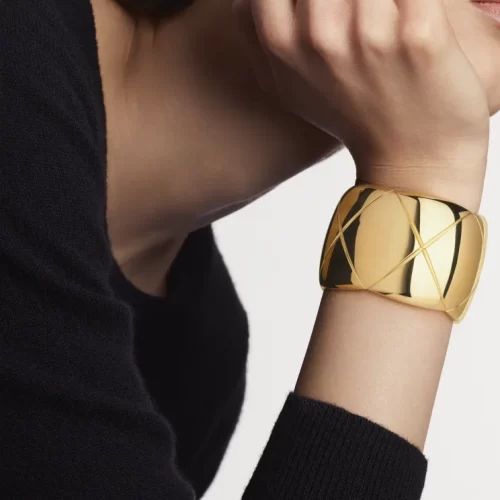 The 'Chanel' Coco Crush Cuff is a luxury bracelet designed by the iconic fashion house, Chanel. It is part of the Coco Crush collection, which was launched in 2015 and has become a staple of the brand's jewellery line. It is made of 18k yellow gold and features a quilted pattern inspired by Chanel's signature quilted handbags.
A highly coveted accessory and a symbol of luxury and sophistication. It is a statement piece that can elevate any outfit and add a touch of glamour to your look.
Available at : Chanel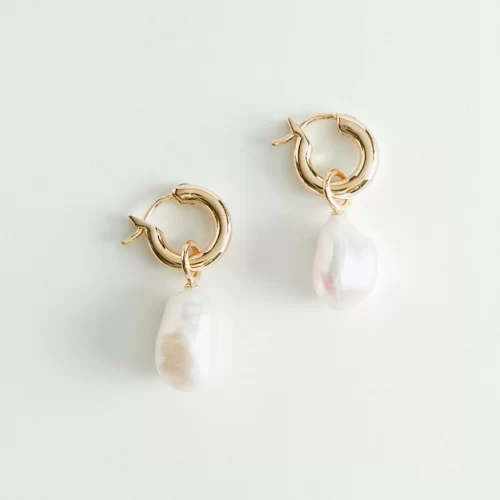 Jumbo pearl drop earrings feature large, lustrous pearls that dangle from the earlobes, adding glamour and sophistication to any outfit. These statement earrings are made for special occasions and everyday wear, making them a timeless and versatile accessory. Choose well-matched, high-quality pearls and consider the metal used in the setting for a durable and chic look. Whether you prefer classic white pearls or exotic hues, these earrings are sure to make a luxurious statement.
Available at : & Other Stories, Sheerluxe
Shoulder Skimming/ Drop Earrings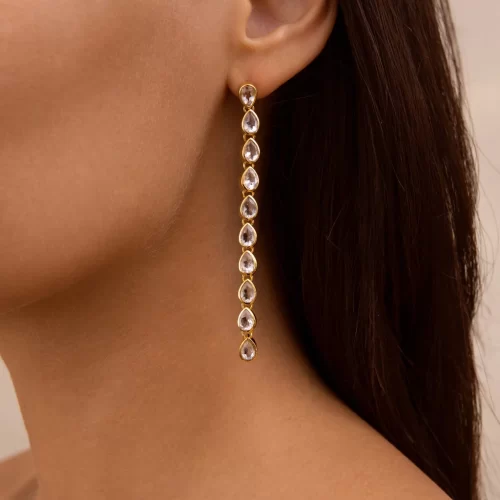 Shoulder-skimming earrings are bold and attention-grabbing accessories that dangle elegantly at or below the shoulders. They come in a variety of styles and materials, ranging from simple designs to complex intricate ones, making them a  popular fashion accessory for decades. When wearing shoulder-skimming earrings, it's essential to consider balance by pairing them with understated accessories or with more delicate pieces. These earrings can add sophistication and drama to any outfit, making them a must-have addition to your jewellery collection.