Guttapusalu: The Spectacular South Indian Necklace Design
Guttapusalu, which means "a shoal of small fish with beads" in Telugu, originated in the coastal regions of Andhra Pradesh. The design of the necklace is created with strings of beads piled over each other as fringes, creating a look reminiscent of a school of fish swimming together. Traditionally, Guttapusalu necklaces are made of gold or silver and embellished with beads, coloured gemstones, pearls, or even uncut diamonds.
The most extravagant and popular Guttapusalu necklace is in the Temple design, which may come with matching earrings, waistband, and bangles. Other popular styles include designs with pearls, cubic zirconia stones, colourful beads, or peacock motifs. Some Guttapusalu necklaces are adorned with rubies, emeralds, sapphires, and uncut diamonds, while others feature a Lakshmi motif in Temple-style jewellery. The designs of these necklaces vary in length and can range from a choker to a long necklace.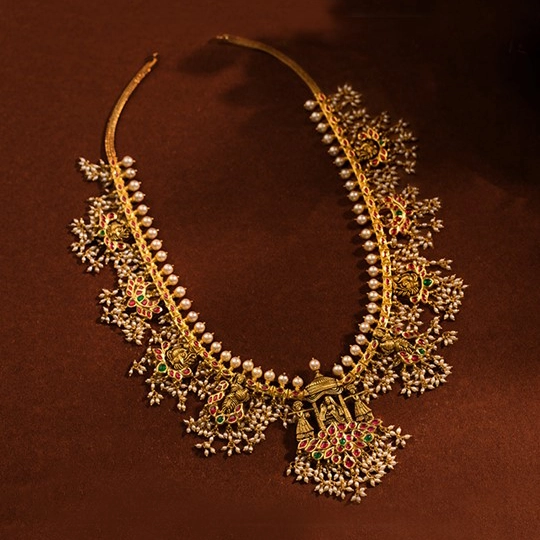 Guttapusalu necklaces are not considered traditional in modern times, but they remain a favourite among modern-day brides and women who love to wear statement jewellery pieces. Lightweight necklaces in this style are also popular at formal parties, get-togethers, kitty parties, anniversaries, and other special occasions. Bollywood actress Sonam Kapoor Ahuja even wore a Guttapusalu necklace on her wedding day.
Many jewellery designers from other regions of India are showing keen interest in giving their own twist to this style of South Indian jewellery. Some low-cost Guttapusalu necklaces are made with bronze or copper metals and embellished with faux beads and stones.
One of the things that make Guttapusalu necklaces so special is their antique finish or look. The necklace's design gives it a very royal feel, which adds elegance and charm to any outfit it is paired with. The versatility of Guttapusalu necklaces is also a major factor in their popularity, making them perfect for traditional Indian outfits as well as Indo-western ensembles.
For South Indian brides, Guttapusalu neckpieces are a staple in their jewellery collection. The collection of small pearls hanging at the bottom of the neckpiece is characteristic of this design. Guttapusalu is a versatile design, and you will have no trouble finding neckpieces in any length you want.
In conclusion, Guttapusalu is a beautiful and versatile South Indian necklace style that has been cherished for generations. Its heritage and intricate design make it a perfect choice for brides and women who love to wear statement jewellery pieces. The variety of styles and lengths available make it suitable for any occasion, from formal parties to traditional weddings. It is no wonder that Guttapusalu continues to capture the hearts of women and remain a popular choice in South Indian jewellery.