What You Didn't Know About Elakkathali Gold Necklace
"Elakkathali" is a type of gold necklace worn by women in the Indian state of Kerala. The term "elakkathali" is derived from two Malayalam words: "elakka", which means leaf, and "thali", which means pendant. The necklace usually consists of a pendant in the shape of a leaf or a series of leaves, attached to a chain. The pendant may be studded with precious stones or have intricate designs engraved on it.
Elakkathali necklaces are considered to be a traditional and important piece of jewellery for brides in Kerala. They are often gifted to the bride by her family as a symbol of good luck and prosperity. The design and style of Elakkathali necklaces can vary depending on the jeweller and the region of Kerala they come from. The length of the elakkathali necklace can vary, but it typically falls just above the chest. The process of making an elakkathali necklace can take several weeks or even months to complete.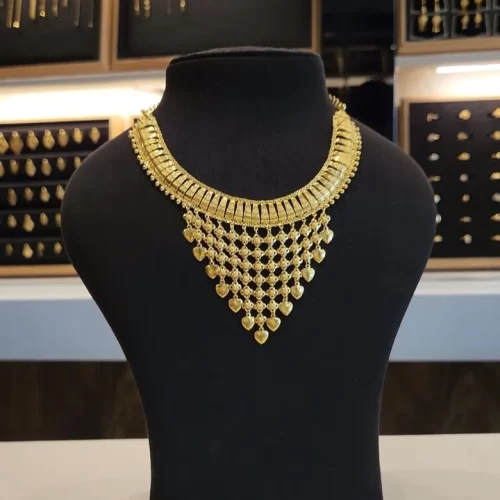 Even though it is mostly worn by brides, the attire that would match an elakkathali gold necklace would depend on the occasion and personal preference.
In Kerala, the traditional attire for women is a saree or a kasavu mundu (a traditional two-piece outfit consisting of a white cotton or silk saree with a gold border and a matching blouse). These outfits can be paired with an elakkathali necklace to complete the traditional look.
However, an elakkathali necklace can also be paired with other outfits such as salwar kameez, lehenga choli, or even a simple dress to add a touch of traditional elegance. It is important to keep in mind the colour and style of the outfit to ensure that it complements the necklace rather than overpowering it.
Different Types of Elakkathali Gold Necklace
Elakkathali comes in different weights, Lightweight starts from 16 grams & Heavy starts from 30 grams
Traditional Elakkathali Gold Necklace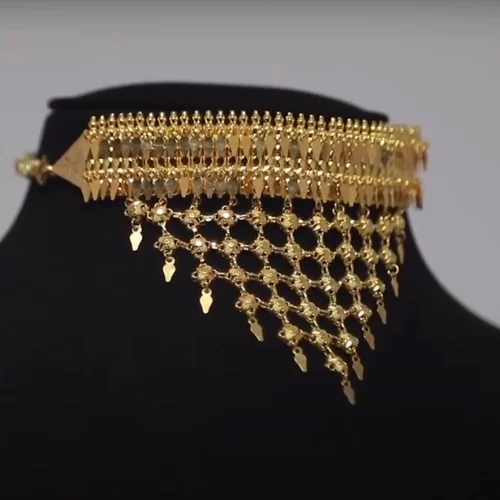 Elakkathali Choker Gold Necklace