Best Minimal Diamond Studs For Women
Even though there are numerous reasons why women choose to wear minimal jewellery, one of the most common reasons is comfort. We reckon you might be here for the same reason, but finding the best minimal diamond studs entirely depends on a subjective perspective. Before you downright decide to purchase the first stud you see, there are a few points you have to keep in mind. 
Factors to consider before purchasing a minimal diamond stud
Diamond Quality: Here are the 4cs that help us access the diamond quality. 
Cut: A well-cut diamond reflects light flawlessly and produces an enhanced sparkle. You need to target diamonds with 'excellent' or at least 'very good cut' grades for maximum brilliance.
Clarity: The clarity of a diamond refers to the presence of internal and external flaws. Seek out diamonds with higher clarity grades (e.g., IF, VVS1, VVS2, VS1, VS2) for a clearer appearance. Make sure you reach out to the salesperson to confirm the clarity grade before completing the purchase.
Colour: Colourless diamonds (grades D to F) are more valuable and exhibit a pure white brilliance. Near-colourless diamonds (grades G to J) are also popular and offer an excellent balance of quality and value. So either go for colourless or near-colourless as the optimal colour choice for your diamond studs.
Carat Weight: Carat weight measures the size of the diamond. Considering we are focusing on minimal studs, consider weight according to your discretion. Make sure you factor in the age and design minimalism.

Metal Type: The metal type you should go for is again a subjective and also a budget matter. Do make sure you or the wearer isn't allergic to the metal before the purchase. As each metal widely differs in price. But the most common metals that go well with minimal diamond studs are white gold, yellow gold, rose gold, platinum, and sterling silver. But we have curated this blog featuring diamond studs exclusively with yellow gold, as it is the most popular gold among a crowd.
Design and Setting: Usually, what is dignified as minimal is through our perception. If we feel the design isn't too grandy in nature, it can be considered minimal. So by simply avoiding complex or high-weighing diamond studs, you end up with a minimal diamond stud in your hands. However, when it comes to choosing a setting, it is common to choose the prong setting over everything else. 
Backings: Just like settings, backings come in all shapes and sizes. But considering we are opting for minimal studs, it is pivotal that we go for a screw back or friction back as backings to prevent the loss of jewellery.    
Diamond Certification and Brand: Validate the authenticity of the diamonds by asking for certifications from recognized organizations like, The International Gemological Institute (IGI), Gemological Institute of America (GIA) and The American Gem Society (AGS). Make sure the Jeweller you choose to purchase the diamond studs from is reputable and provides valuable support and warranty. One such reputable jeweller is Jos Jewellery.
Curated Minimal Diamond Studs for Women
Jos Jewellery has shared with us some of their most esteemed jewellery designs. Among these, we handpicked a few of the best minimal diamond studs for you by factoring in the factors we mentioned above so you can engage in an effortless shopping experience. 
Twin Hearts Diamond Designer Studs for Weddings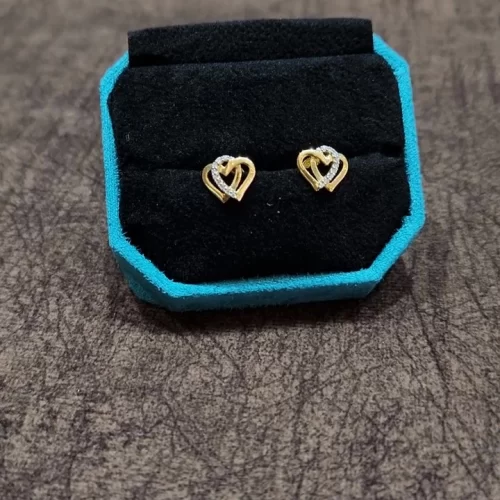 Metal: Yellow Gold
Carat: 0.06 ct
Clarity: VVF E_F
These adorable minimal diamond studs are made of a twin-heart design helping women stand out in a function making her the second most centre of attraction (The bride being the first). Trust me you don't want to steal the bride's thunder.
Miniature Designer Studs for Brides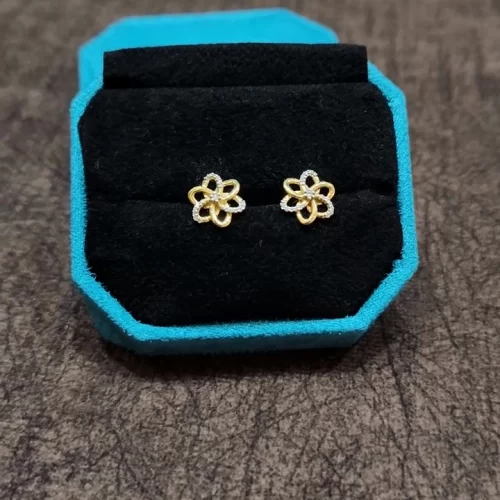 Metal: Yellow Gold
Carat: 0.06 ct
Clarity: VVF E_F
A subtle minimal and miniature flower-designed stud that helps women blend in a crowd of a function. Unlike the previous one, this one doesn't attract much attention as one needs a keen eye to figure out that the stud is in fact a diamond stud. 
Classy Diamond Studs for Brides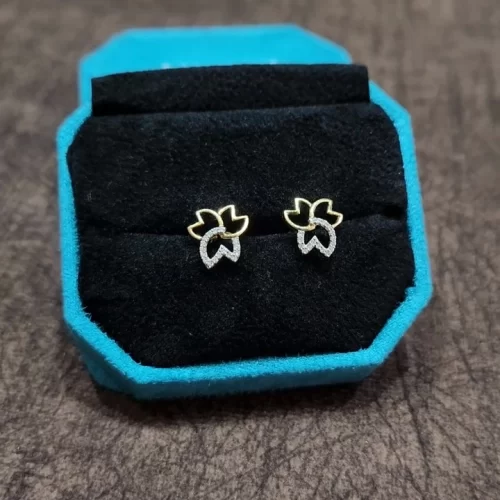 Metal: Yellow Gold
Carat: 0.09 ct
Clarity: VVF E_F
Jos Jewellery didn't hold anything back while creating such an amazing piece of art. Perceivable as the embodiment of class, this stud is backed with luxury, empowering the bride to shine her brightest on her special day. 
Traditional designer diamond studs for Engagements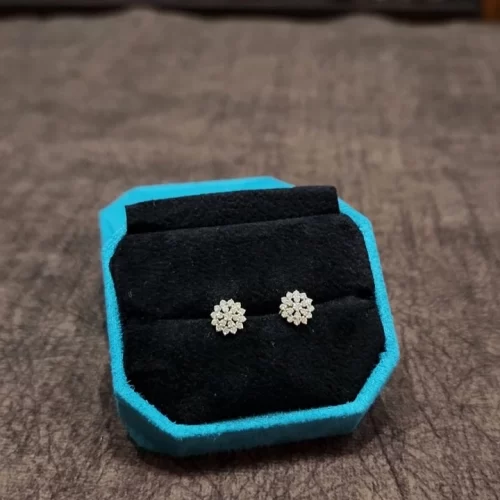 Metal: Yellow Gold
Carat: 0.35 ct
Clarity: VVF E_F
It is rare to see so many diamonds packed in a stud. But that is the very reason this engagement minimal stud is a winner. Without succumbing to bulkiness, this stud is created in a miniature way closely packed with sparkling diamonds making the woman who wears this noticeable across the room.
Ultimately what can be deemed as minimal is our comfort. Some may like to go minimal but would like some "wowing" eyes on them, others would prefer to just blend in with the crowd. Whatever the reason and occasion be GoldZouq has numerous designs for you to compare and choose from. Compiled by designs from Jewellers that are reputed to Jewellers that are upcoming, GoldZouq is the one-stop solution for your Jewellery needs.