Bangle Designs for weddings
Weddings are joyous celebrations that unite two souls in the sacred bond of love. It is a momentous occasion that marks the beginning of a beautiful journey filled with love, happiness, and togetherness. Every wedding ceremony is accompanied by a plethora of customs, rituals, and traditions, each holding significant cultural importance. Among these traditions, the adornment of bangles has a special place, symbolizing prosperity, happiness, and marital bliss.
At Goldzouq, we understand the cultural significance of weddings and the essence of traditional jewellery in these joyous events. That's why we are proud to announce our partnership with Chungath Jewellery, one of the pioneering jewellers in today's world. In this article, we present a curated list of bangle designs, exclusively from Chungath Jewellery, that are perfect for weddings. Let's delve into the world of mesmerizing bangles that embody elegance and grace.
Minimal Classic Diamond Bangle By Chungath Jewellery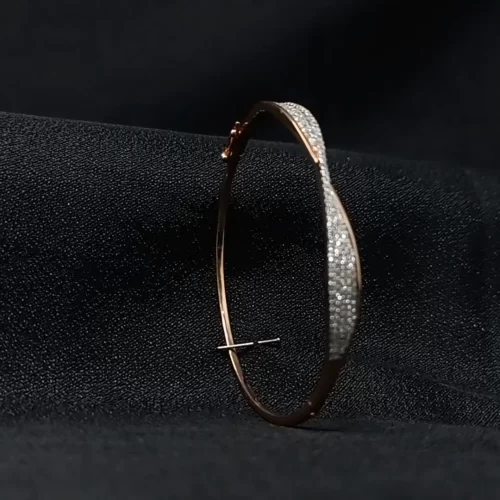 Sometimes, less is more, and this Minimal Classic Diamond Bangle is a prime example of it. Delicate yet eye-catching, this design embraces simplicity while exuding a touch of sophistication. The shimmering diamonds carefully studded on the bangle create a subtle sparkle that complements any bridal attire. Whether it's a traditional wedding ceremony or a contemporary celebration, this bangle is sure to add a timeless charm to the bride's wrist.
Floral Motif Bangle By Chungath Jewellery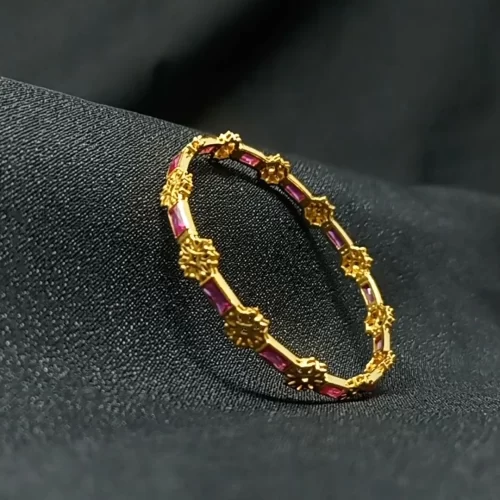 Flowers are synonymous with weddings, and this Floral Motif Bangle beautifully captures the essence of blooming love. Meticulously crafted with intricate floral patterns, this bangle is a work of art that symbolizes growth, beauty, and new beginnings. The delicate design makes it a stunning choice for brides seeking a blend of tradition and elegance.
Embellishing Emerald Embedded Diamond Bangle By Chungath Jewellery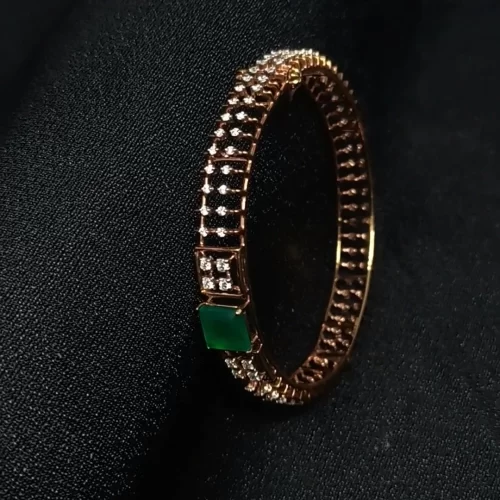 Green is the colour of prosperity and new beginnings, and this Embellishing Emerald Embedded Diamond Bangle epitomizes grace and opulence. The dazzling diamonds, along with the lush green emeralds, create a mesmerizing contrast that accentuates the bride's wrist with elegance and charm. This bangle design effortlessly complements bridal ensembles, making it an excellent choice for wedding festivities.
Crimson Ruby Embedded Diamond Bangle By Chungath Jewellery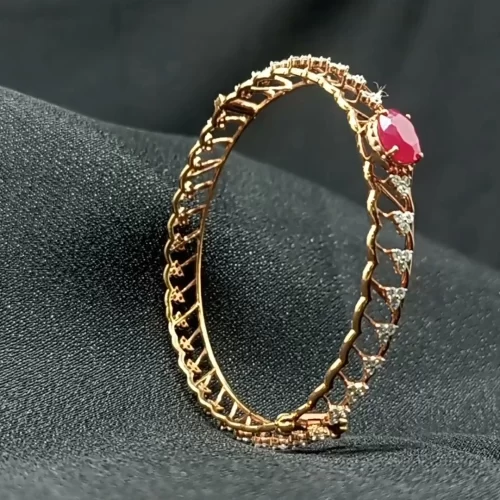 Red, the colour of love and passion, takes centre stage in this captivating Crimson Ruby Embedded Diamond Bangle. Adorned with radiant rubies and exquisite diamonds, this bangle reflects the vivacity of love and the richness of traditions. It's a bold and striking choice for brides who wish to make a statement and embrace their cultural heritage with pride.
Waving Leaves Diamond Bangle Design By Chungath Jewellery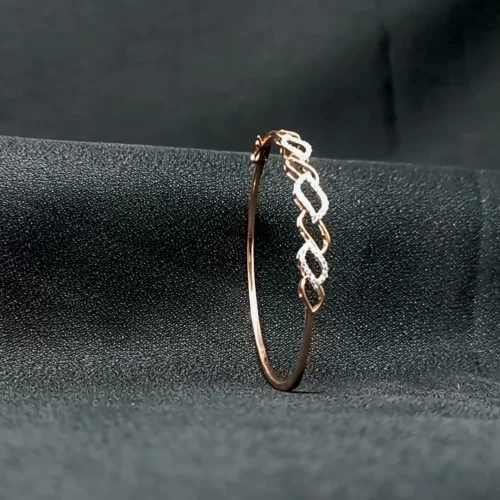 Nature-inspired designs never go out of style, and the Waving Leaves Diamond Bangle perfectly blends modern aesthetics and traditional allure. The intricate detailing of delicate leaves, adorned with sparkling diamonds, makes this bangle an exquisite piece of artistry. With its timeless appeal and versatile charm, this bangle is a symbol of prosperity and growth, fitting perfectly into the auspicious occasion of a wedding.
As Goldzouq joins hands with Chungath Jewellery, we take pride in presenting these handpicked bangle designs that resonate with the essence of weddings. Each bangle is a testament to the craftsmanship and passion of Chungath Jewellery, ensuring that every bride's special day is adorned with elegance and love. These carefully curated bangles are designed to capture the heart of every bride and make her feel cherished as she embarks on this beautiful journey of love and togetherness.